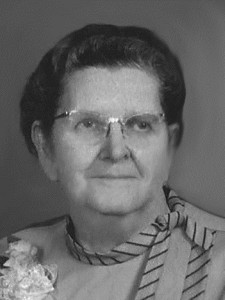 Nellie Klusmeyer
Rock County 4-H Volunteer
In Memoriam
Nellie was a mother, farmer's wife, writer, active church and community member, and school teacher who wanted to provide young girls with the same learning opportunities boys had through 4-H. In 1924, Rock County Ag Agent R.T. Glasgow approached her and other rural women to help raise money to hire a County Home Economics Agent to develop the girls' program. Mothers with daughters old enough to be in 4-H would donate a hen to be sold to raise the funds. Nellie collected all the hens in her township and took them to be sold. Miss Helene French was hired as a summer Home Economics Agent in 1925.
Not being able to recruit a 4-H leader, Nellie took on the role herself. The first club had 28 members who worked on sewing, food, and canning projects. The family moved in 1929 and she started a new 4-H club, which she led for several years. She also helped the neighboring 4-H club, which her daughters joined and Nellie followed.
Nellie stated, "I think the secret of good education for children is to belong to 4-H." She was a leader for 48 years, until her death in 1975 at the age of 80.