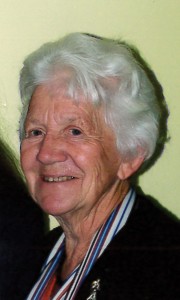 Bernadette Krentz
Waushara County 4-H Volunteer
Bernadette is well-known as a woman who will get the job done! She is currently a county board supervisor, chairperson for Farm Bureau and active in her church, including making an annual mission trip to Panama with family and friends. Bernadette is in her 44th year as a general organizational and project leader of Loyal 4-H Club. She has seven children, 21 grandchildren, and four great-grandchildren, many who are active 4-H members and leaders.
Bernadette got started in 4-H when her children became 4-H members. The club needed adult leaders: "I attended the meetings with my kids; I was at every meeting, so why not join! I had skills that I could teach to others and I learned a lot of new skills myself."
Bernadette continues to evolve and adapt to the changing times. She often promotes youth-adult conversations and interactions during 4-H and civic events, often pairing youth and adults together to foster relationships, build trust, and provide youth with a sense of belonging. Her leadership has touched the lives of many young people who she encouraged to be the best they can be.