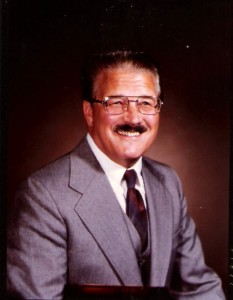 J. Mitchell "Mitch" Mackey
Wisconsin 4-H Program Leader
In Memoriam
Mitch Mackey's career was inspired by contact with early 4-H pioneers Verne Varney and Wakelin "Ranger Mac" McNeel. His early days on a Door County farm included experiences as a 4-H dairy member and State Fair demonstrator.
Mitch trained returning veterans to be successful farmers in Grant County. In Milwaukee County, he worked with 4-H programs as the Assistant County Agent, where he organized the County 4-H Leaders' Association and implemented the early use of the new media: TV. He served as statewide Cooperative Extension Assistant Director of Personnel, Assistant Director of Community Programs, and Chair of the Department of Community Affairs. He served as 4-H Specialist and retired as State 4-H Program Leader in 1982.
His volunteer activities were: 4-H club leader; church educational teaching and leadership; local and regional Kiwanis; and historical preservation. As a 4-H Youth Development Specialist during the 1970s, he developed statewide programs in community development, careers, and citizenship.
Mitch's statewide influence impacted youth, families, and communities through his teaching and program leadership. His success was due to his work ethic, faith, and vision that adapted to a rapidly changing world.