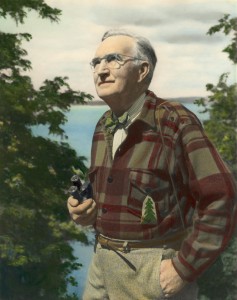 Wakelin "Ranger Mac" McNeel
Afield with Ranger Mac
In Memoriam
"Statistics are dull. Kids prefer down-to-earth realism." – Ranger Mac
Spending his childhood outside of Wisconsin Dells canoeing, fishing, hunting, and camping, it is no surprise Ranger Mac's career led him to conservation education. He got his start in K-12 education before beginning his Extension career in Marathon County.
Ranger Mac worked in Marathon County 4-H, promoting youth nature activities. He was then hired as a professor of agriculture and forestry Extension agent, focusing on conservation education. This led to Afield with Ranger Mac, a weekly radio program for children that aired for over 21 years and received the 1942 Peabody Award for Best Educational Program. More than half of Wisconsin's schoolchildren met state requirements for conservation education by listening to Ranger Mac.
After retirement, Ranger Mac dedicated himself to the development of Upham Woods, where there is a cabin in this name.