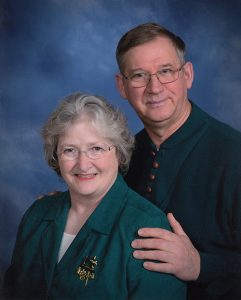 Anne and Bob Oelke
4-H Volunteer Leaders
Enthusiastic, dedicated and involved. These words not only describe Anne and Bob Oelke, but are reflective of their commitment to the 4-H mission.
The Oelkes are truly lifetime 4-H'ers. They grew up in Marathon County 4-H and remained active leaders in adulthood. Shortly after their marriage, they relocated to Pierce County and became 4-H leaders, wanting to continue their 4-H connection. When Anne and Bob moved to Randolph, they joined the Dodge County 4-H family and were involved for over 35 years, taking on leadership at all levels. At the same time, they volunteered at club and county events in Columbia County. Most recently, they became active in Marquette County 4-H.
The Oelkes have a positive impact on the youth and adults of all counties they are involved in. Their 4-H leadership roles include teaching educational sessions, serving as county resource leaders and junior fair superintendents, taking on committee work and fundraising, donating to programs and so much more.
The Oelkes understand the big picture of 4-H which shows in the way they work with youth and adults to "make the best better." Both have volunteered locally, county-wide and state-wide in a variety of areas, leading workshops for youth and adults and provided leadership when Wisconsin hosted the North Central Volunteer Leader Forum.
Anne and Bob set a positive image for 4-H. People enjoy working with them because of their passion for 4-H. They are dedicated volunteers to 4-H and their community, enhancing the lives of individuals they touch.