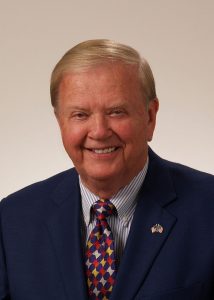 Orion Samuelson
Wisconsin 4-H Alumnus
The best-known agricultural broadcaster in the country, Orion Samuelson was a Wisconsin 4-Her whose first project was a Guernsey heifer calf. He credits 4-H with igniting his passion for agriculture and his first experiences with public speaking, ultimately leading to his broadcasting career.
Orion considered becoming a Lutheran pastor before going to radio school. His early work was based in Wisconsin and he was working in Green Bay when his big break came. Orion served as Chicago WGN Radio's head agriculture broadcaster beginning in 1960. He presented 16 agricultural reports daily. He was heard daily on 260 radio stations with his "National Farm Report" and on 110 stations with his "Samuelson Sez." He co-hosted the Morning Show on Saturdays and now hosts "This Week in Agribusiness" on RFD-TV.
Orion has been recognized for his life-long commitment to agriculture by agribusiness organizations across the industry. He is the only broadcaster to receive two Oscars in Agriculture from the National Association of Farm Broadcasting. Orion was the first agribusiness broadcaster to be inducted into the National Radio Broadcasters Hall of Fame. In 2010, the City of Chicago named the corner of Illinois Street and Cityfront Plaza Drive 'Orion Samuelson Way.'
Active outside broadcasting, Orion has served on the National 4-H Council Board of Trustees. This spring, he began working with the Wisconsin 4-H Foundation to raise $500,000 to support livestock programming. This campaign served as a sort of homecoming for Orion, whose roots are firmly planted in Wisconsin soil.