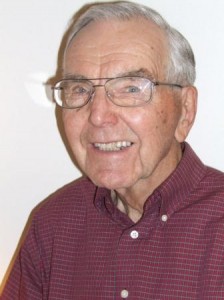 Robert "Bob" Stodola
Washington County 4-H Agent
Through Bob's 1951-1984 Washington County career, there was a dramatic increase in 4-H enrollment and volunteer leaders. Washington County was one of the first in the nation to pioneer the 4-H Exploring project. Bob introduced face-to-face county fair judging. Member, project leader, general leader, and agent are among his 4-H roles.
Bob's leadership was known throughout Extension. He served as President of the Wisconsin Extension Workers Association; helped create the Wisconsin Association of Extension 4-H Agents and served as President and other board roles; and was a National Association of Extension 4-H Youth Agents board member. Bob helped create the University of Wisconsin-Extension's Department of Youth Development and was elected the first Department Chair.
Community contributor, leader and activist describes Bob's work with the Wisconsin Ice Age Trail, Lac Lawrann Conservancy, West Bend Kiwanis Club, and West Bend High School needs study committee chairmanship. He is a leader in the Wisconsin Nicaragua Partners of the Americas with 20 years of board service, five trips to the country, fundraising for loans for female business operators, and database development for membership records.