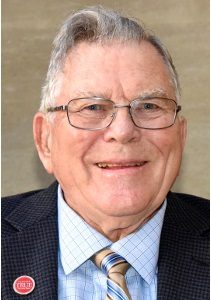 Robert "Bob" Walton
4-H Alumnus
Robert "Bob" Walton is the former CEO of American Breeder Service who became interested in his career path as a 4-H member. Now globally renowned for his contributions in genetics research for the dairy, beef, and plant breeding industries, his first 4-H project, a calf named Daisy, started his life-long love affair with the dairy industry. Bob will tell anyone that the 4-H motto to "Make the Best Better" has been his personal mantra since childhood.
Bob's first 4-H calf sparked a dream to breed a herd of cattle using all the "good" genes. This early exposure to the dairy industry through 4-H sparked Bob's studies in genetics. Along the way, he tapped into the collective know-how of leading geneticists and evaluators to glean their insight and test his ideas.
Known as a visionary, progressive, and selfless leader, Bob has served a number of organizations that have benefited from his knowledge on emerging technologies and dedication to the animal agriculture industry. He holds the distinction of serving on the World Dairy Expo Board for 38 years.
Bob's employees knew him as their moral compass and role model. Living a life where integrity is never negotiable, he inspires and influences the livestock industry and 4-H youth.
Bob has been working with the Wisconsin 4-H Foundation in an effort to raise $500,000 to support livestock programming. This campaign brings Bob full-circle as he is now supporting the very projects that started his long and illustrious career and ignited a life-long passion for excellence.