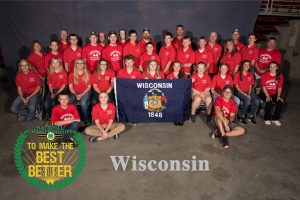 Youth interested in qualifying for Wisconsin's 2021 4-H Shooting Sports National Championships Team will compete in Competitive Shoots across the state in 2019. Scores from these competitive shoots will be used to determine who will represent Wisconsin on the 2021 National Championships Team (due to cancellations in 2020, the 2019 results will be used for the 2021 team).
A summary of scores required to qualify for national and the location of the various 4-H Shooting Sports events across Wisconsin in 2019 can be found at WI Qualifying Requirements for the 4-H National Championships. Tournament rules and and registration forms for competitive shooting sports events scheduled to date are posted at the  Competitive Shoots page. Shoot scores that qualify for national are designated as National Qualifying Event or NQE.
Those who meet the national age requirement will automatically have their qualifying scores submitted for consideration on the Wisconsin Team. For example, if you shoot in the required number of statewide events for your discipline(s) in 2019, you will receive notification to complete an application in December 2020 for the 2021 National Championships that will take place June 20-25, 2021 at Grand Island, Nebraska. Due to event cancellations in 2020, the expected 2020 National team from Wisconsin will be invited to the 2021 National Championships.
2021 4-H Shooting Sports National Championships
Grand Island, Nebraska, June 20-25, 2021
How to Apply Due to Covid-19, those youth who were 2020 team members impacted by the cancellation of the 2020 National Championships, will retain their opportunity to attend in 2021. However, they must submit the 2021 National Shoot application securing their spot on the 2021 National team. The deadline for submitting applications is January 31, 2021. Eligible youth from 2020 who did not apply for a team in 2020 may apply for remaining team vacancies. These 2021 applications have a February 28, 2021 deadline. Selection will be determined by scores that established the 2020 teams.
2021 Application:  2021 Shooting Sports National Shoot Application – Fillable PDF
For additional information on the National 4-H Shooting Sports program, visit the National 4-H Shooting Sports website at www.4-hshootingsports.org 

The Wisconsin Chapter of the National Wild Turkey Federation continues to support Wisconsin 4-H Shooting Sports statewide and the National 4-H Championships held annually in Grand Island, Nebraska.