Wildlif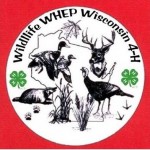 e WHEP Wisconsin 4-H
Hands-on learning activities
Resource List for 4-H Shooting Sports Wildlife Curriculum
Extensive list of organizations, publications, web sites and contacts to enhance your Shooting Sports Project
Wildlife/Conservation Activities for 4-H Shooting Sports
Series on how to appreciate and conserve our natural resources through the Shooting Sports project
Wisconsin Chapter–National Wild Turkey Federation
Information on the JAKES youth program designed to introduce youth to the outdoors, wildlife management on public and private land, wild turkey hunting and more.
National Wild Turkey Federation
The NWTF is a 521,000-member, grassroots, nonprofit organization with members in 50 states, Canada, and 15 other foreign countries. It supports scientific wildlife management on public, private and corporate lands as well as wild turkey hunting as a traditional North American sport.
Daisy Shooting Safety and Education Programs
Site with safety tips and other shooting education information
Federal Cartridge
Resources on the role of hunter as a conservationist
Go Wild With Wisconsin Wildcards
Activity kit from the Wisconsin DNR including more than 250 "trading cards" that feature some of Wisconsin's plants, wildlife and special places. Great resource for helping Wisconsinites (of all ages) get to know their state and its natural resource issues.
National 4-H Shooting Sports
Excellent site for information on the National 4-H Shooting Sports program and the benefits provided to participants through positive youth development practices
National Rifle Association
Several youth program materials
National Shooting Sports Foundation
A variety of topics from being an ethical hunter to wildlife conservation, firearm safety and more
Today's Hunter
Courses on hunter safety education
U.S. Fish and Wildlife Service
Useful information on hunting, conservation, birds, habitat, education, endangered species, refuges and more
Support
Special thanks are extended to the following for their continued support to Wisconsin 4-H Shooting Sports:
Wisconsin State Chapter of the National Wild Turkey Federation
National Wild Turkey Federation
Midway USA
Wisconsin 4-H Foundation
Federal Cartridge
Rocky Mountain Elk Foundation
Friends of the NRA
Please contact us if you or your organization would like to support Wisconsin 4-H Shooting Sports.