Class Details
Workshop Dates + Locations
Registration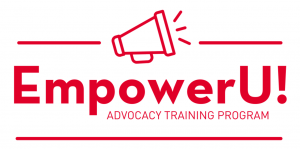 Thinking about an invasive species issue and ready to take action?
EmpowerU! Advocating Invasive Species Management is a training program where you can learn how to work with decision makers and influence management decisions to advance action on invasive species issues.
About the Class
EmpowerU is a hybrid class in which participants independently complete 8 online modules in addition to attending one full day in-person workshop.
This class is focused on invasive species issues, but the tools and skills you learn can apply to any issue of concern to you!
Save the Date!
Participants must attend ONE of these full day in-person workshops
Saturday, March 30th, 2019: 9 am – 3 pm at UW-Madison Arboretum, Madison
Tuesday, April 2nd, 2019: 10 am – 4 pm at Coughlin Center, UW-Extension Winnebago County, Oshkosh
Registration
We had so much interest in EmpowerU that both workshops are now FULL! We hope to be able to offer the class again in the future. Please contact Anne (anne.pearce@wisc.edu) if you would like to be put on an email list for future notifications.
Class Details
In this approximately 4 week course, participants can grow their skills to meaningfully engage decision makers about invasive species. Through a series of self-paced online learning activities and one in-person workshop, you will:
Gain understanding of the roles and levels of government and who to contact regarding invasive species management.
Learn to use skills such as influence, persuasion, framing, questioning and listening in interactions with decision makers.
Discover where to find reputable information on the status of invasive species in your area.
Create an engagement plan and experience practicing it in a peer-learning environment.
See yourself as a resource to decision makers on invasive species management.
View engagement with decision makers as a norm and encourage others to do it.
Network with other people passionate to make a difference about invasive species.
Class Outline and Expectations
Course length: suggested 4 weeks*
* Online modules are done at whatever pace the participant decides, so course length may be greater or less than 4 weeks. If possible, we recommend completing 2 modules per week.
Delivery method: hybrid (online and in-person)
Time commitment: Participants will complete 8 online modules which should take about one hour each. The required in-person workshop will be a full day.
Technology requirements:
You will need reliable internet access and a computer with an updated web browser. In addition, you will need a broadband internet connection (DSL or faster), and the ability to play audio and video content. If you do not have access to reliable internet, but are still interested in the course, please contact us (anne.pearce@wisc.edu, 608-262-9570). We can make most of the course materials available in a Google Drive folder for you to download and use offline.
You will need word processing software such as Microsoft Word OR a Google account for use with Google Docs.
You will need Adobe Acrobat or another supported PDF reader.
You will need access to a printer to print your student workbook (optional) and your completed Engagement Plan (required).
Project Partners and Sponsors
This training is supported by a grant from the Renewable Resources Extension Act (RREA). The RREA is a program within the United States Department of Agriculture's National Institute of Food and Agriculture. Educators at University of Minnesota Extension are the primary investigators for the grant and the curriculum developers, and Wisconsin is one of many states partnering to administer the program.