Thanks to everyone who planned and attended the 2019 Roadside Workshops!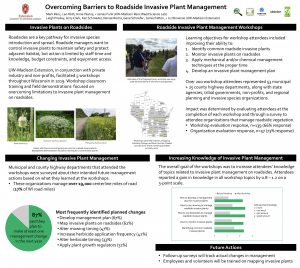 Access 2019 Workshop Presentations here!
Workshop Information:
Invasive plants pose a costly challenge to roadside vegetation managers. A statewide partnership among university, non-profit, state agency, and private industry groups is hosting FREE workshops across the state in 2019. Workshops are open to all people interested in roadside vegetation management and will address topics such as:
Identification of common roadside invasive plants
How to apply management methods to optimize control and minimize cost
Tools and tips for mapping invasive plants within your jurisdiction
Integrating management with pollinator habitat efforts
Each workshop will also include bus tours (free) to large- and small-scale demonstration plots that demonstrate:
Broadcast and spot herbicide applications
Mowing timing and frequency
Use of plant growth regulators to reduce mowing frequency
2019 Dates + Locations:
All workshops run from 9 am – 3 pm.
Kenosha County: Wednesday, July 17th at Kenosha County Center (19600 75th St, Bristol)
Chippewa County: Thursday, July 18th at White Birch Inn (1039 State Hwy 64, Bloomer)
Portage County: Tuesday, July 23rd at Lettie Jensen Center (487 N Main St, Amherst)
Sauk County: Thursday, July 25th at Compeer Financial (N Ridge Rd, Prairie Du Sac)
Brown County: Tuesday, August 13th at Way-Morr Park (3832 Park Rd, Greenleaf)