(OMAHA, NE) The 4-H Livestock Quiz Bowl team from Marathon County were crowned National Champions at the 2014 National 4-H Livestock Quiz bowl contest held the end of September at the AKSARBEN 4-H Stock Show in Omaha, NE. Team members that participated in the contest answer questions via a buzzer system format on wide array of questions that cover the beef, sheep, swine and meat goat project areas. Major topic include: genetics, breeding, reproduction, meats, nutrition and many other animal topics. Team Members were: Ashley Zimmerman, Katelyn Zimmerman, Nathan Utecht and Emma Walters. The team was coached by Mark Zimmerman. First round match against Kansas was a decisive win, next came a win over Nebraska and a win over Minnesota to head to the finals. Minnesota came through the consolation bracket to meet again in the finals, where Wisconsin was crowned the National Champion.
Marathon County 4-H teams are no stranger to national quiz bowl competition. Marathon County 4-H has represented Wisconsin at this national contest in 2010 where they were Reserve National Champions. Much of their success is due to the youth's willingness to practice and gain knowledge in these areas along with a great coach in Mark Zimmerman who has encouraged youth in contests for so many years.
Wisconsin had been Reserve National Champion 3 times before bringing the national banner home; growing a nice tradition for the state of Wisconsin in youth livestock educational events. Wisconsin has seen similar success at the National Skillathon contest (Louisville, KY), bringing home 2 National Championships and 4 Reserve Championships.
Marathon County earned the right to compete at the National contest by winning the senior division at the 2014 WI 4-H Livestock Quiz bowl and Skillathon event. Make plans to participate in the 2015 State Contest held on Saturday, March 7, at UW-Madison. You can find more information about the Livestock Quiz bowl contest and other youth livestock educational events at the Wisconsin Youth Livestock webpage at https://fyi.extension.wisc.edu/youthlivestock/programs/quizbowlskillathon/
###
Link to picture for publicity purposes.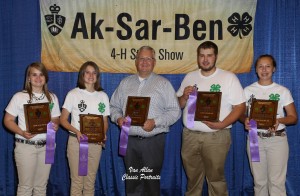 https://plus.google.com/u/1/b/109852629348876173407/photos?pid=6070870045877743970&oid=109852629348876173407