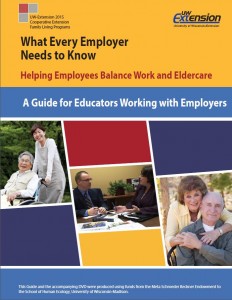 This Guide for Educators is a resource for educators who partner with employers for the purpose of creating and promoting workplace environments that are supportive of individuals who balance work and the responsibility of caring for elderly family members and/or friends who needed assistance.
The Guide is intended to accompany the videos addressing "employed caregiving" viewable on this site.  The videos are also compiled in a DVD, "What Every Employer Should Know: The Benefits of Understanding the Needs of Employees Involved in Caregiving."
The Guide is also a resource for Extension educators who work with local employers in accessing the utilizing the Employed Caregiver Survey on the national eXtension website.