According to the Society for Human Resource Management (SHRM), there has been a steady decrease in the proportion of U.S. employers offering programs that help employees balance work and eldercare responsibilities. This website has been developed for the purpose of providing employers with information regarding workplace environments that are supportive of working caregivers.
Employed Caregiver Survey
The UW Cooperative Extension Family Living Programs has developed and piloted the "Employed Caregiver Survey." This confidential, web-based survey process produces an executive summary and a longer report, which defines the scope and needs of employed caregivers and make recommendations for assistance. For complete instructions on how to implement the "Employed Caregiver Survey," please visit Employed Family Caregiver Survey.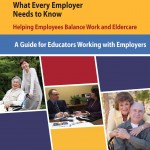 Videos on Issues Related to Work and Eldercare
Short videos addressing "employed caregiving" tackle issues related to care given to elderly family members by persons who are also employed. The primary objective of these videos is to help employers create work environments that are supportive of families and households simultaneously engaged in work and elder care.
The video titles will link you to a YouTube video. For closed captioning, click the "cc" button when the video begins:
Resources related to each video are available via the link after each video description. Access all nine videos here.
---
Blog Posts
Workplace Leave Policies for Caregivers
Keeping Up With the Times: Supporting Family Caregivers With Workplace Leave Policies was recently published by Lynn Feinberg, AARP Public Policy Institute, June, 2013. "Millions of Americans face financial difficulties or risk losing their jobs if they must take time off to address family needs, especially when adult and aging family members have a serious […]