Completed or planning to complete YQCA certification soon?
Print certificates by March 22 with current system!
Or wait until after March 23 to complete training on new system
YQCA is moving to a new online platform for registrations and http://yqca.org certificates which will launch on March 23, 2022! On that date, users (youth or YQCA instructors) who have completed training will no longer be able to log in to their account and access their certification information. 
If you have completed, or plan to complete, YQCA before March 22, please download and print off your current and valid certification from http://yqca.org. See the graphic for how to download and print from the website. Please send a copy of your certificate to katie.gindt@wisc.edu for her to give you credit.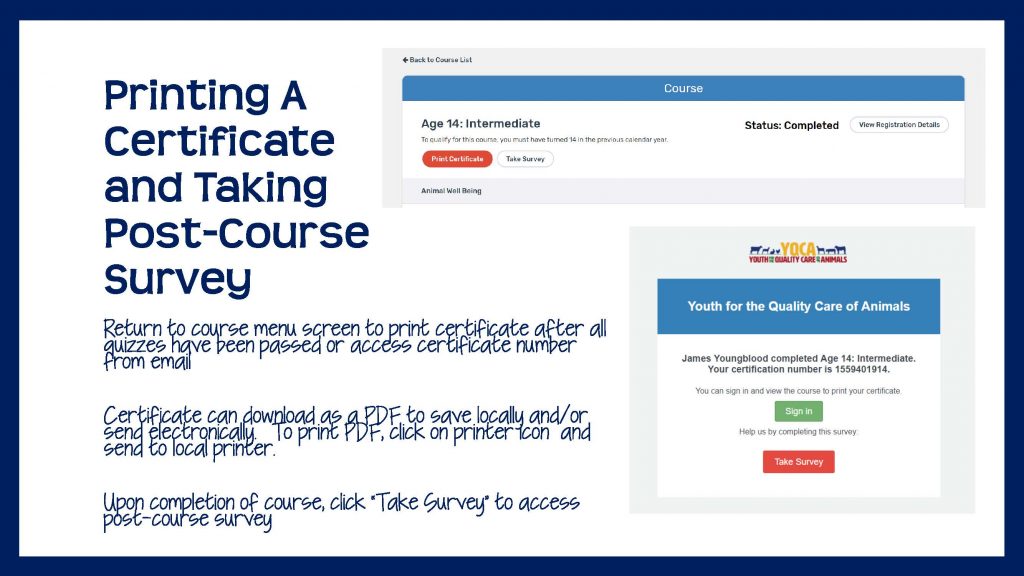 A certificate number will be needed for WI State Fair Jr Large Animal show entries. A hard copy is needed as proof of attendance for YQCA meeting credit for the Fond du Lac County Fair Market Livestock Sale.
Please note, YQCA certification is only offered online at http://yqca.org.  In-person training will not be offered. Each exhibitor, including those showing their last year, must be Youth for the Quality Care of Animals (YQCA) certified.
The YQCA training is offered online and is a $12 fee per person. Everyone must complete the online training and provide a copy of the certificate to Extension Fond du Lac County. This training will count two (2) points towards the minimum eight (8) points needed to qualify for the Fond du Lac County Market Livestock Sale. To register for YQCA, please visit http://yqca.org/. 
If you have any questions, please feel free to contact Tina at 920.929.3180 or via email at tina.kohlman@wisc.edu.