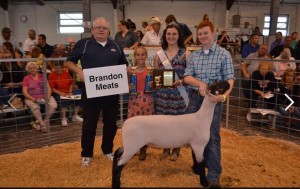 The Fond du Lac County Fair Market Livestock Sale provides an incentive and encourages involvement in the 4-H and FFA Beef, Sheep, Swine and Market Goat Projects. The sale also provides recognition for project members who do quality work in selecting, feeding and showing their livestock projects. Rules governing the Fond du Lac County Fair Market Livestock Sale can be found within the fair's premium book at www.fonddulaccountyfair.com.
Initial Identification
All potential sale animals for the Fond du Lac County Market Livestock Sale must be pre-identified and weighed in at designated dates and locations. For all sale rules including initial identification and weigh-ins, please visit http://fonddulaccountyfair.com/.
---
Educational Requirements
The Fond du Lac Market Livestock Committee feels education is a very important component with a 4-H or FFA Livestock Project.
To qualify for the Market Livestock Sale, participants are required to complete eight (8) educational credits. There will be no educational requirement for youth who graduated from high school the previous year besides YQCA, formerly known as MAQA.
Each exhibitor, including those showing their last year, must be Youth for the Quality Care of Animals (YQCA) certified.
The calendar year for completing eight (8) credits begins the Monday following the previous fair and ends on Friday preceding the current year's fair. To keep track of meeting credit, please visit "Attendance Record".
All approved events will be posted on the Fond du Lac County Meat Animal Project Website at https://fyi.extension.wisc.edu/fdlmeat/calendar-of-events/.
Events not listed on the Meat Animal Project Website must be first pre-approved by the Market Livestock Sale Committee. It is up to the exhibitor to provide documentation (agenda, brochure, etc.) regarding the event for approval. A livestock project activity form must be signed by the event coordinator and submitted to UW-Extension for credit. Criteria used for points determination are:

1 point-livestock (beef, sheep, swine, meat goat) related online webinars (except for YQCA which counts for 2 points)
2 points-meetings 1 to 2 hours in length, exhibit at any show
3 points-meetings ½ day in length (3 plus hours)
4 points-judging teams and quiz bowl teams (accounting for practices & contest), meetings 1 day in length (6-8 hours)
6 points-meetings 2 or more days in length
1 point-any educational meeting in conjunction with a show, sale or livestock event (i.e. World Beef Expo, World Pork Expo, etc.)
4 points-high school or college meat animal-related class
2 points-livestock related presentation (i.e. Day on Farm, Civic Groups, etc.)
---
Attendance Record
The attendance record allows individuals to keep track of their individual attendance record throughout the year. The record is generally updated 10 – 14 days after events, or as time permits.
---
Youth for the Quality Care of Animals (formerly known as Meat Animal Quality Assurance)
YQCA is designed as an annual education and certification program focused on food safety, animal well-being, and character awareness for youth ages 8 to 21 producing and/or showing pigs, beef cattle, dairy cattle, sheep, goats, market rabbits, and poultry. The program has been designed by extension specialists and national livestock program managers to ensure it is accurate, current, and relevant to the needs of the animal industry and shows and is appropriate for youth.
YQCA is a requirement to be eligible to sell at the Fond du Lac County Fair Market Livestock Sale and to show at the Wisconsin State Fair Jr. Animal Shows (Beef, Sheep, Swine, Dairy, Goat, Poultry, Rabbit). Youth have the option to do face-to-face training at any one of the YQCA offerings across the state or to do the online training.
Goals:
Ensure the safety and well-being of animals produced by youth for showing and for 4-H and FFA projects
Ensure a safe food supply to consumers
Enhance the future of the livestock industry by educating youth on these very important issues so they can become more informed producers, consumers and/or employees in the agriculture and food industry
Maximize the limited development time and budgets of state and national youth program leaders to provide an effective quality assurance program
Offer livestock shows a valid, national quality assurance certification for youth livestock exhibitors
YQCA is mandatory for all youth selling beef, sheep, swine, and goats at the Fond du Lac County Market Livestock Sale.
Registration: Dates and locations of local training are available on the project calendar at https://fyi.extension.wisc.edu/fdlmeat/calendar-of-events/. To register for the face-to-face or online certification program, please visit https://yqcaprogram.org/.
Fees: The program is designed to provide an estimated 60 minutes of education each year. The online program requires the passing of a series of three quizzes to earn certification. An in-person YQCA workshop requires complete attendance.
There is a fee for the program this year and must be paid directly to YQCA at the time of registration via credit card. The fee is $3 per person for face-to-face training. For those wishing to do the online training at any time or anyplace, there is a $12 fee. None of the fees comes back to Fond du Lac County. One hundred percent of the fee is used by YQCA to develop curriculum and web-based resources.
---
Project Record
All market livestock sale participants must complete an official Market Livestock Production Record Form. Forms are located at https://fyi.extension.wisc.edu/fdlmeat/forms/ and must be completed and mailed back to the Extension office by Friday following Labor Day. This copy to the Extension office is in addition to any required forms for 4-H club or FFA chapter requirements. Failure to successfully complete and turn in the form on time may result in loss of sale privileges for the following year.