2020 Wisconsin 4-H Virtual Meats Judging Contest
Sunday, November 22nd, 2:30-6:00pm
This virtual contest will test the knowledge of youth in placement of carcass and retail cut classes, carcass grading, and retail cut identification. Juniors (age 8-13) and Seniors (age 14-19) are invited register as individuals to participate and display their meats evaluation skills in this competitive educational experience. Youth will enter placings through Judgingcard.com.  Seniors will present oral reasons for one set via Zoom. Juniors and Seniors will also answer questions.
With the cancellation of all national 4-H livestock judging contests in 2020, these will be stand-alone, non-qualifying state educational contests.
No cost to enter! Registration available HERE
Registration Deadline: November 16, 2020.
Please direct all questions to Joe Muellenberg at joe.muellenberg@wisc.edu or Bernie O'Rourke at borourke2@wisc.edu
Thank you to all those who participated in our first ever virtual livestock judging contests! We were happy to have youth from across Wisconsin attend to display skills as well as extra focus and flexibility as we worked together to make the first ever WI 4-H virtual judging contests an overall success.
2020 Wisconsin 4-H Virtual Livestock Judging  Contest (10/18/20)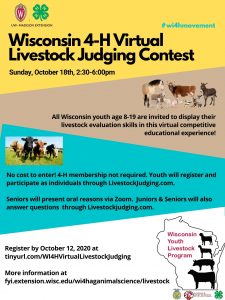 Livestock Results for junior and senior divisions:
Results – 2020 WI 4-H Virtual Livestock Judging Contest
Official placings Walkthrough: https://www.livestockjudging.com/contest/post_contest.aspx?id=176
Interested in beef, sheep, swine, or meat goats?  Participate in:
The Wisconsin Youth Livestock Program supports these educational events and much more!