The University of Wisconsin-Madison Division of Extension has issued a statement in response to the shooting of Jacob Blake.
The UW-Madison Division of Extension is deeply saddened about the senseless violence directed toward Jacob Blake and his family in Kenosha this past weekend. This is another display of unnecessary police force that makes our communities less safe. This is yet another preventable action that undermines the connectedness and cohesiveness of our communities. Extension strongly condemns all forms of bigotry and racism. We are embarking on intentional steps to make ours a more equitable, anti-racist, non-biased, and inclusive organization. We stand behind actions to ensure each and every person is treated equitably and does not live in fear of those entrusted with their safety.
At Upham Woods, we are reissuing the statement we made in June regarding systemic racism and our pledge to respond.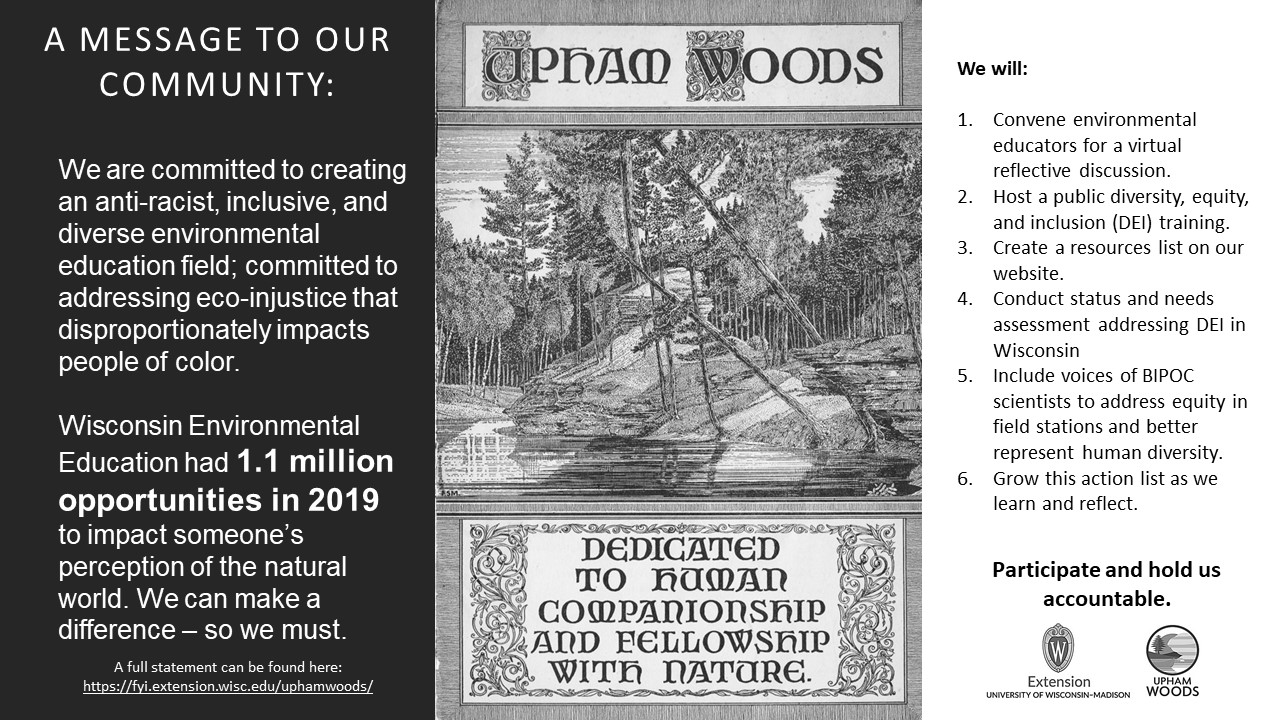 Coronavirus Update:
Under the guidance of University of Wisconsin-Madison leadership in response to the spread of COVID-19, Upham Woods is canceling all scheduled residential groups starting at 9:00am March 12, 2020 until August 15, 2020. You can learn more about our response, updates, and response on this webpage.
________________________________________________________________________
---
---
Upham Woods Outdoor Learning Center provides educational opportunities to youth, youth leaders, and adults through programs focused on environmental and leadership education.
---
---
Operating since 1941, Upham Woods is a model residential outdoor learning center, managed by the University of Wisconsin – Madison Division of Extension. The center sits on a prime location on the Wisconsin River, two miles north of the Wisconsin Dells, offering an excellent "river classroom" to study both the natural and cultural history of Wisconsin. The center rests on 318 total acres of forested land, including a 210-acre island called "Blackhawk Island." The facility consists of 14 buildings including a fully equipped nature center and a raptor enclosure housing educational birds of prey. The center supplies lodging for 200 people, meals, and outdoor education year-round for youth and youth leaders, including environmental lesson plans, summer camp programming, leadership workshops and other conferences.
---
---
EE in Wisconsin Video
"Find Environmental Education in Your Community," a video project made possible by North American Association of Environmental Educators, Wisconsin Association for Environmental Education, Environmental Protection Agency, and University of Wisconsin-Extension. Check out the video here.
---