Enjoy the beauty of Upham Woods in all seasons through these public programs!
Upcoming Programs
---
Paddle Pass Program
After completing an educational orientation program, annual Paddle Pass holders will be able to launch their own canoes and kayaks on the Wisconsin River using the parking lot and established shoreline access points at Upham Woods Outdoor Learning Center.  A Paddle Pass is also your connection to community paddling events and land stewardship volunteer opportunities in the Upper Dells.

REGISTRATION: Paddle Pass Sign-Up
FEE: $5, payable by card after registration or payable by check at orientation
UPCOMING ORIENTATIONS: We do not have any more scheduled group orientations; if you are still interested in Paddle Pass, please sign up and we will schedule an individual orientation.
Passholders are required to check in and out through the main office like all other visitors during business hours.  For access outside of business hours, paddlers should contact Upham Woods at least 24 hours in advance of their visit.  Weekends, mornings, and evenings can likely be accommodated with appropriate advance notice.  We will work with paddlers to meet their needs. The following special days have already been arranged to help you access the river.
UPCOMING OPEN PADDLES (for people who have already attended an orientation session)
* Note: This program does not provide access to Blackhawk Island or hiking.  The pass cannot be used commercially in any way whatsoever.*
---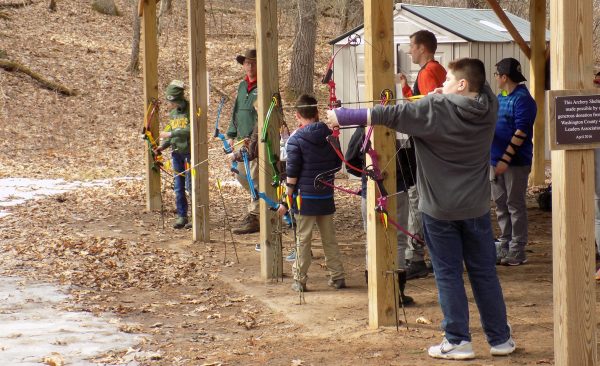 Partnership Programs with City of Dells/Delton Parks & Recreation Department!
These programs are open for people of all abilities in our community! Registration is available online through the Dells/Delton Park and Rec Event Registration website.
April Archery Club

This archery series is designed to introduce and teach participants about the fundamentals of archery. Participants will learn the basic rules, safety measures, equipment, and techniques in order to gain or improve archery skills. We have multiple sizes of bows including a Mini Genesis weighing 2 pounds with an 8-12 pound draw and a Genesis weighing 3.5 pounds with a 12-20 pound draw. This class is open to folks of all ability levels who are ages 8 years of age and older. If you would like to request any accommodations (ASL interpreter, specialized grip equipment for assistance drawing the bow, etc.) to participate in this class please email us at uphamwoods@extension.wisc.edu at least 10 days before the event.

Ages: 8+

Location: Upham Woods

Dates: Saturdays, April 8, 15, 22, 29

Time: 9-10 AM

Fee: $30-$40

Registration: Dells/Delton Parks and Rec Website
Winter Sports Camp

This camp meets weekly on Wednesdays, Jan 25-Feb 15, from 4-5 pm and provides an introduction to a variety of winter sports and activities. Campers will participate in a different activity each week. These activities include but are not limited to, broomball, snowshoeing, outdoor survival, and cross-country skiing.

Location: Upham Woods

Dates: Wednesdays Jan 25, Feb 1, 8, 15

Time: 4-5 PM

Fee: $30-$40

Registration: Dells/Delton Parks and Rec Website