We offer many community programs throughout the year to enjoy the beauty of Upham Woods in all seasons! Programs are open to all. For upcoming events, check out our calendar.
---
Overview of Community Programs
Year-round: Paddle Pass Program, Community Days
Spring: Archery and Fishing Club
Fall: Archery Club
Winter: Winter Sports Camp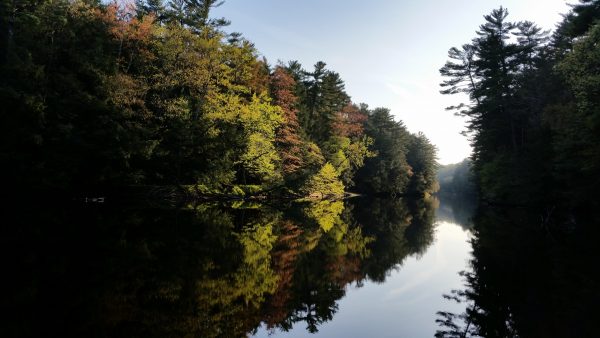 Upcoming 2021 Community Days
September 11: Celebrate 80 years at Upham Woods!
See below for more information on how to register!
---
Paddle Pass Program
After completing an educational orientation program, annual Paddle Pass holders will be able to launch their own canoes and kayaks on the Wisconsin River using the parking lot and established shoreline access points at Upham Woods Outdoor Learning Center.  A Paddle Pass is also your connection to community paddling events and land stewardship volunteer opportunities in the Upper Dells.
Passholders are required to check in and out through the main office like all other visitors during business hours.  For access outside of business hours, paddlers should contact Upham Woods at least 24 hours in advance of their visit.  Weekends, mornings, and evenings can likely be accommodated with appropriate advance notice.  We will work with paddlers to meet their needs.
* Note: This program does not provide access to Blackhawk Island or hiking.  The pass cannot be used commercially in any way whatsoever.
AGES:   All
DATES:
LOCATION:   Upham Woods Outdoor Learning Center
FEE:   $5, payable by check at orientation or credit card after registration
CLICK HERE TO REGISTER ONLINE!
Contact John Celley at Upham Woods, 608-254-6461, john.celley@wisc.edu, with any questions about this program.
---
COMMUNITY DAYS AT UPHAM WOODS
CELEBRATING 80 YEARS AT UPHAM
In 1941 Caroline & Elizabeth Upham donated the property to the University of Wisconsin Madison; that makes this year our 80th birthday!
Ages: All are welcome
Date: Saturday, September 11, 2021
Time: 9:30am – 3:30pm
Cost: FREE and open to the public and for all ages
9:30am: Arrival and Check In
10:00am: Birding Walk on Blackhawk Island
Led by Carly Lincoln, author of "50 Things to Know about Birds in Wisconsin,"
12:00pm: Lunch
Provided by Wild Bearies, an educational, community outreach nonprofit working to connect communities through indigenous cuisine.
2:00pm: More opportunities to explore our Wisconsin River shoreline through staff-led programming
3:30pm: Departure
Fee: $0
Location: Upham Woods Outdoor Learning Center, N 194 County Rd N Wisconsin Dells, WI
Register on their website here: https://www.regpack.com/reg/templates/build/?g_id=100906015
Partnership Programs with City of Wisconsin Dells Parks & Recreation Department!
Upham Woods partners with the City of Wisconsin Dells Parks and Recreation Department to provide programs for the Lake Delton/Wisconsin Dells community! 
Upcoming partnership program offerings include:
ARCHERY CLUB
The program is for all abilities. Participants will learn the basic rules, safety measures, equipment, and techniques in order to gain or improve archery skills.
Ages: 8 years old and up
Location: Upham Woods Outdoor Learning Center at N194 County Road N, Wisconsin Dells
Dates: Thursdays in September; 9/9, 9/16, 9/23, 9/30
Time: 4:30 – 5:30 PM
Fee: $30
This program is in partnership with Lake Delton Parks & Recreation. Registration for this program is available ONLINE through the City of Wisconsin Dells Park and Rec Event Registration website.