Community Programs
We offer many community programs throughout the year to enjoy the beauty of Upham Woods in all seasons! Programs are open to all. For upcoming events, check out our calendar.
---
Overview of Community Programs
Year-round: Paddle Pass Program, Community Days
Spring: Archery and Fishing Club
Fall: Archery and Canoe Club
Winter: Winter Sports Camp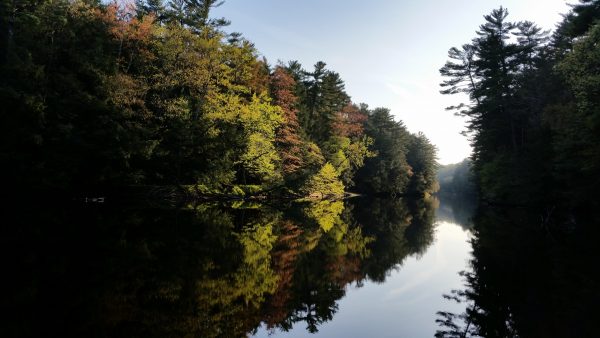 Upcoming 2021 Community Days
July 17- Aug 7: Wisconsin River Explorations Club on Saturdays
September 11: Celebrate 80 years at Upham Woods!
See below for more information on how to register!
---
Paddle Pass Program
After completing an educational orientation program, annual Paddle Pass holders will be able to launch their own canoes and kayaks on the Wisconsin River using the parking lot and established shoreline access points at Upham Woods Outdoor Learning Center.  A Paddle Pass is also your connection to community paddling events and land stewardship volunteer opportunities in the Upper Dells.
Passholders are required to check in and out through the main office like all other visitors during business hours.  For access outside of business hours, paddlers should contact Upham Woods at least 24 hours in advance of their visit.  Weekends, mornings, and evenings can likely be accommodated with appropriate advance notice.  We will work with paddlers to meet their needs.
* Note: This program does not provide access to Blackhawk Island or hiking.  The pass cannot be used commercially in any way whatsoever.
AGES:   All
DATES:
LOCATION:   Upham Woods Outdoor Learning Center
FEE:   $5, payable by check at orientation or credit card after registration
CLICK HERE TO REGISTER ONLINE!
Contact John Celley at Upham Woods, 608-254-6461, john.celley@wisc.edu, with any questions about this program.
---
Partnership Programs with City of Wisconsin Dells Parks & Recreation Department!
Upham Woods partners with the City of Wisconsin Dells Parks and Recreation Department to provide programs for the Lake Delton/Wisconsin Dells community! 
Upcoming partnership program offerings include:
WISCONSIN RIVER EXPLORER'S CLUB
This program is family-oriented. Join us in exploring and caring for the 3 1/2 miles of Wisconsin River shoreline at Upham Woods. We'll spend the mornings learning about and caring for our stretch of the river by testing water quality, searching for invasive species, or building trail to scenic beaches! Then spend part of your afternoon creating a splash by fishing along the river. This program is for all abilities. Upham staff will provide instruction and equipment. Lake Delton Parks & Recreation has fishing poles available for youth to take home with them (contact Abby Schultz reccoordinator@dellsparkandrec.com for details or to pick one up!). Come for one or come for all sessions!
Ages: Family oriented – all are welcome
Dates: July 17th, July 24th, July 31st, & August 7th.  Learn & Play 9 am-12 pm; Fishing 12:30-2:30 pm
Location: Upham Woods Outdoor Learning Center, N 194 County Rd N Wisconsin Dells, WI
Fee: $0 supported by UW-Madison Division of Extension
Register here. Registration closes the Thursday before and is capped to 15 people.
CELEBRATING 80 YEARS AT UPHAM
In 1941 Caroline & Elizabeth Upham donated the property to the University of Wisconsin Madison; that makes this year our 80th birthday! Join us this Fall
Ages: All are welcome
Date: Saturday September 11th, 2021
Fee: $0
Location: Upham Woods Outdoor Learning Center, N 194 County Rd N Wisconsin Dells, WI
Register on their website here: https://www.regpack.com/reg/templates/build/?g_id=100906015
ARCHERY – available in the fall come back soon for details!
The program is for all abilities. Participants will learn the basic rules, safety measures, equipment, and techniques in order to gain or improve archery skills.
This program is in partnership with Upham Woods Outdoor Learning Center as they will be leading the activities at their site. Registration for this program is available ONLINE through the City of Wisconsin Dells Park and Rec Event Registration website.