Upham Woods Outdoor Learning Center is a residential facility operated by the University of Wisconsin-Extension and located on the beautiful Wisconsin River, two miles north of Wisconsin Dells. The site consists of 14 buildings that supply lodging, meals and environmental education resources year round for youth and youth leaders. The center rests on 318 acres of forested land including Blackhawk Island, a 210-acre designated State Natural Area. This wooded property is considered one of the few remaining "old growth" natural areas of the state. The rock cliffs, shady canyons, caves and sandy beaches feature a variety of flora, fauna and unique geologic and cultural history.
Seasonal Positions
NOW HIRING! Seasonal Teaching Naturalists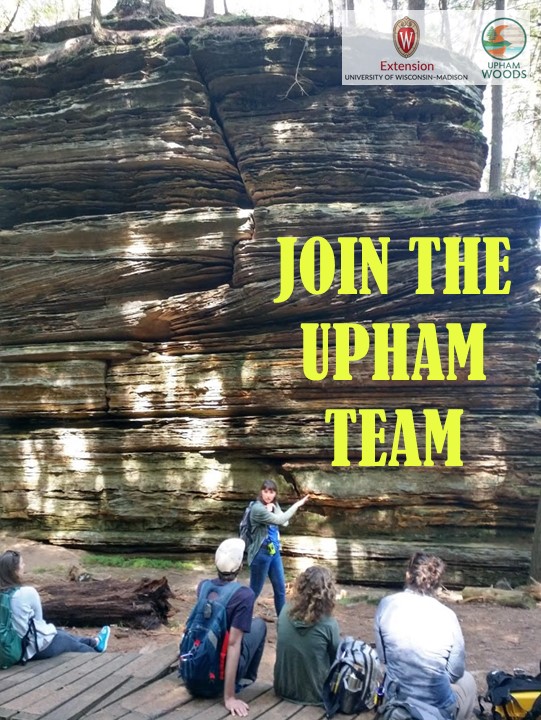 ---
Fall Teaching Naturalist
PRIMARY POSITION LOCATION:
University of Wisconsin-Extension Upham Woods Outdoor Learning Center, Wisconsin Dells, WI
Contact Isabelle Herde, Program Director for more information. Email: isabelle.herde@wisc.edu
Description:
Do you have a passion for the outdoors and teaching others about it? This is the job for you! Spend your days hiking and canoeing while teaching children in a beautiful setting right on the Wisconsin River. This position is a great way to broaden your skills by teaching natural and cultural programs, outdoor recreation and low ropes initiatives, as well as learning scheduling and coordinating.
The Upham Woods Teaching Naturalists are the primary programmatic personnel for Upham Woods. This position is responsible for teaching environmental education classes, leading the programmatic activities, interacting with center clientele, corresponding with schools before and after a group visit, assisting with program development, and care for programmatic equipment which includes our nature center animals.
Upham Woods uses a rolling application process for the Teaching Naturalist position. Salary:$400/week, room and partial board provided.  Please email cover letter, resume, and three references to Isabelle Herde at isabelle.herde@wisc.edu. Find out more information about the seasonal Teaching Naturalist Position by clicking on this Position Description
Dates: start date as soon as possible and end date November 19, 2021 with the possibility of extending