Employment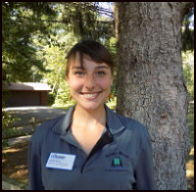 Upham Woods Outdoor Learning Center is a residential facility operated by the University of Wisconsin-Extension and located on the beautiful Wisconsin River, two miles north of Wisconsin Dells. The site consists of 14 buildings that supply lodging, meals and environmental education resources year round for youth and youth leaders. The center rests on 310 acres of forested land including Blackhawk Island, a 210-acre designated State Natural Area. This wooded property is considered one of the few remaining "old growth" natural areas of the state. The rock cliffs, shady canyons, caves and sandy beaches feature a variety of flora, fauna and unique geologic and cultural history.
Currently accepting applications for the following positions:
Summer Camp Naturalist
PRIMARY POSITION LOCATION:
University of Wisconsin-Extension Upham Woods Outdoor Learning Center, Wisconsin Dells, WI
Description:
Do you have a passion for the outdoors and teaching others about it? This is the job for you! Spend your days hiking and canoeing while teaching children in a beautiful setting right on the Wisconsin River. This position is a great way to broaden your skills by teaching natural and cultural programs, outdoor recreation and low ropes initiatives, as well as learning scheduling and coordinating.
The Upham Woods Summer Counselor Naturalists are the primary programmatic personnel for Upham Woods in the summer season. This position is responsible for teaching the summer camp and recreational activities for user groups, interacting with 4-H Youth educators and adult volunteers, and care for programmatic, outpost and recreational equipment which includes the science center animals. Additionally the summer counselor naturalists may sometimes be called upon to lead off and onsite adventure-type programs.
Upham Woods uses a rolling application process for the Summer Counselor Naturalist position. Please email cover letter, resume, and three references to Ellen King, Program Director.
Click here for a full job description and a list of primary duties and job functions, and to learn how to apply.
Our Open Enrollment Summer Camps page has more information about the position as does our hiring flyer.
---
Office Support (Part Time)
Purpose and Primary Focus of Position: The Office & Program Support LTE will collaborate with Upham Woods's full-time staff on assigned tasks to support the various administrative and programming functions of Upham Woods.
Primary Duties/Essential Job Functions:
Provide support through various assigned administrative tasks, such as answering the telephone, greeting guests, communicating with customers, scheduling social media posts, filing, and/or photocopying. This position will also help to manage the registration process for all open enrollment sessions run by Upham Woods.
Provide support to full-time center staff through various assigned program-related administrative tasks.
Administrative Relationships: This position is directly accountable to the Director and jointly supervised by the full-time center staff on all work matters.
Program Relationships: This position works with 4-H youth and youth leaders, youth and youth leaders of our school year, scout, and retreat group programs. This position cooperates with and communicates to all other Upham personnel. As such, a positive working relationship with others is a condition of this position.
Required Qualifications:
Working knowledge of standard office software programs such as: Microsoft Word, Excel, PowerPoint, various web browsers, and Adobe Acrobat
Ability to work in a busy environment with distractions
Ability to lift and carry 50 pounds
Ability to work independently
Ability to work flexible hours any day of the week
Applicant must be able to pass a standard criminal background check
Preferred Qualifications:
Experience in desk top or web based publishing skills
Proficiency in communications technology (social media, e-mail marketing software)
For More information about Upham Woods go to: http://fyi.uwex.edu/uphamwoods/
How to Apply:
Please email cover letter, resume, and three references to Jennifer Loveland, Office Operations Associate, Upham Woods Outdoor Learning Center. jennifer.loveland@ces.uwex.edu
---