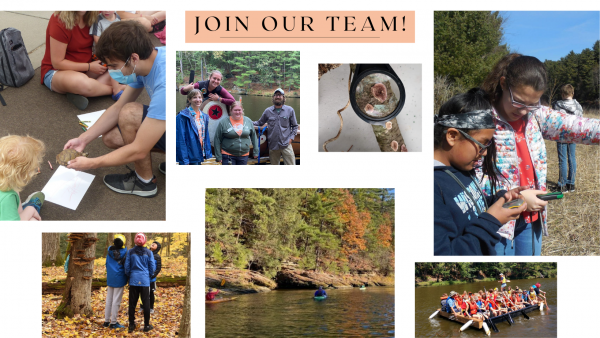 Upham Woods Outdoor Learning Center is a residential facility operated by the University of Wisconsin-Madison located on the beautiful Wisconsin River, two miles north of Wisconsin Dells. The site consists of 14 buildings that supply lodging, meals and environmental education resources year-round for youth and youth leaders. The center rests on 318 acres of forested land including Blackhawk Island, a 210-acre designated State Natural Area. This wooded property is considered one of the few remaining "old growth" natural areas of the state. The rock cliffs, shady canyons, caves and sandy beaches feature a variety of flora, fauna, and unique geologic and cultural history.
Current Openings

:

Wisconsin Idea Internship Program

The Wisconsin Idea Internship Program (WIIP) is a talent development initiative sponsored by the university of Wisconsin-Madison's Division of Extension and the division of Diversity, Equity and Educational Achievement (DDEEA). This program will support a cohort of interns across the division of extension, and state of Wisconsin, to holistically develop professional skills and interests, and provide opportunities to contribute to our organization's programs and activities. You must be enrolled in UW-Madison for the 2023-2024 school year. Pay is $15 per hour.
Conservation Intern (in-person): Support land management goals and objectives related to stewardship and maintenance of Upham's wooded campus. The Conservation Intern will interface with visiting groups to provide guidance and safety parameters for conservation stewardship projects and initiatives. The position will act as a collaborative member of the land management team and will provide leadership on specific stewardship and conservation projects.
Communications and Outreach Intern (hybrid): The function of this position is to create and execute content that aligns with Upham Woods's social media strategic outreach, engage with target audiences, and monitor metrics to seek opportunities for growth and improvement. The intern will act as a collaborative member of the communications team while taking a leadership role on special projects.
Apply by April 15th!
UW-Madison is committed to providing opportunities to people from all backgrounds to help create a welcoming, empowered, and inclusive community. UW-Madison encourages women, minorities, veterans, and people with disabilities to apply.