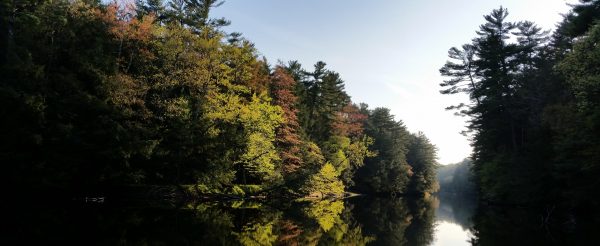 Research at Upham
A wealth of knowledge has been generated by researchers that come to Upham Woods, both in natural sciences and human sciences. At Upham Woods, we are always looking for new people to do research here, so they can gather data and tell us stories about our land. Over the last several decades, researchers have published almost 50 scientific journal articles that have cumulatively been cited over 6,600 times – that's a lot of high-quality information about our landscape being shared with the scientific community. Most of the research done at Upham Woods uses remote sensing technology to answer questions about forest ecosystems, ranging from the chemical makeup of roots and leaves to nutrient cycling in the forest canopy. This research was started by NASA in the 1980's and continues today with faculty members from the University of Wisconsin-Madison. We are excited to share this wealth of knowledge at Upham Woods.
Why do we value research at Upham Woods?
1) It helps us be informed when making conservation decisions on our landscape.
2) It helps us improve our environmental education programming.
3) We get to share and contribute to the wealth of knowledge in Wisconsin!
---
RIA
Check out our list of publications and the biographies of our Research and Innovation Advisory Committee members to learn more about research from the past and present at Upham Woods, and explore the possibilities for new research on our landscape.
---
Publications
Read more of our publications >