Want to support Wisconsin's military kids and families?
Here are some things you can do:
Fill and distribute care packages to kids and families experiencing the deployment of a loved one.
Volunteer to deliver fun, educational programming at various events across the state.  Training and a background check are necessary.
Make a financial contribution. 
Check out the Community Toolkit and do something great in your community.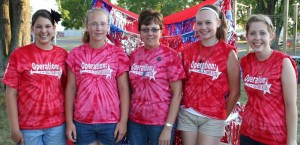 Contact Sue Curtis, sacurtis2@wisc.edu or 608-342-1308 to get involved.
Working together we can have a strong impact on military families in our own backyard.