UW—Madison Division of Extension's The Literacy Link is the recipient of a $21,000 award for new, high-quality books. The award from the nonprofit First Book, will expand The Literacy Link's mission to bring evidence-informed literacy and learning opportunities to young children who have a parent or caregiver involved in local correctional systems.
The Literacy Link aims to promote language and literacy skills in children, as well as foster healthy family relationships between young children and their justice-involved family members.  Ashland, Bayfield, Buffalo, Dane, Dunn, Kenosha, Pepin, and Racine counties are piloting the program. With the award, the program will provide more than 5,000 new books to children across the state. The books will be distributed to jails, libraries, courts and other community spaces where children in justice-involved families interact, at no cost to the families.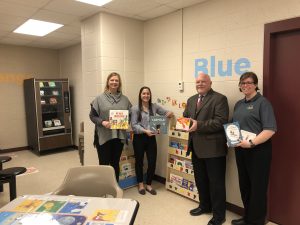 "This award strengthens our capacity to distribute new, high-quality books that are culturally relevant and also foster parent-child relationships in families affected by the criminal justice system," said Danielle Hairston-Green, Director of Extension's Human Development and Relationships Institute. "Research clearly shows that the number of books at home is linked to children's school success and lifelong well-being."
First Book, the nonprofit social enterprise focused on equal access to quality education for children in need, awarded the funds as part of its OMG Books Awards: Offering More Great Books to Spark Innovation. This program will give more than $4.7 million in funding to distribute 1.5 million brand new books and eBooks to children living in low-income communities in 33 U.S. states and territories. Awardees used the funding to select books and eBooks from the First Book Marketplace (www.fbmarketplace.com), First Book's award-winning eCommerce platform, that best meet the needs of the children they serve. First Book estimates the total value of the books distributed will be more than $12 million.