In celebration of Juneteenth, the Division of Extension's African American Employee Resource Group is holding a special webinar conversation with Dr. Maya Rockeymoore Cummings.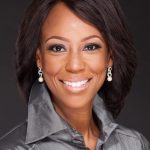 Dr. Rockeymoore Cummings – wife of the late Elijah Cummings and a consultant, politician, speaker, and former chair of the Maryland Democratic Party – will give a talk on "Building Toward a More Equitable Future: Health, Well-Being, and Finance."
The webinar will be held Wednesday, June 9, from noon to 1:30 p.m. Register here for connection information.
After a quarter of a century of working on innovative public policy and multimillion-dollar social change initiatives in the government, nonprofit, and private sectors, Dr. Rockeymoore Cummings is a policy and political expert who understands how to build and sustain cross-sector collaborations, diverse coalitions, dynamic diversity, equity, and inclusion strategies, and effective education campaigns. She has served on numerous boards including the National Association of Counties Financial Services Corporation, the National Committee to Preserve Social Security and Medicare, and the National Academy of Social Insurance. She is the recipient of multiple honors such as the Aspen Institute Henry Crown Fellowship Award and the Congressional Black Caucus Foundation Fellowship Award and has been a candidate for Maryland governor and the U.S. Congress.
A former chair of the Maryland Democratic Party, Dr. Rockeymoore Cummings earned her B.A. in political science from Prairie View A&M University and her M.A. and Ph.D. in political science, with an emphasis in public policy, from Purdue University.
The African American Employee Resource Group (AAERG) serves as UW–Madison Division of Extension's resource for African American/Black colleagues interested in fostering the success of current and future AA/Black colleagues by sponsoring programming, providing collegial support, fostering belonging, and raising a collective voice related to issues that impact employees' ability to thrive.