Abbey Rosenthal is an incoming senior majoring in nutritional sciences, nutrition, and dietetics and health promotion and health equity. Rosenthal worked to bring food equity to communities in central Wisconsin by working with farmers' markets in Clark, Marathon, Portage, and Wood counties.
Rosenthal found that nearly 54,000 households in central Wisconsin receive FoodShare benefits, but not all farmers' markets accept these benefits — one farmers' market Rosenthal looked at doesn't accept FoodShare benefits; a nearby farmers' market does. The result is inequitable food access for residents across central Wisconsin. Rosenthal wants to change that by working with vendors to accept FoodShare benefits.
"The internship was a very eye-opening experience," Rosenthal said.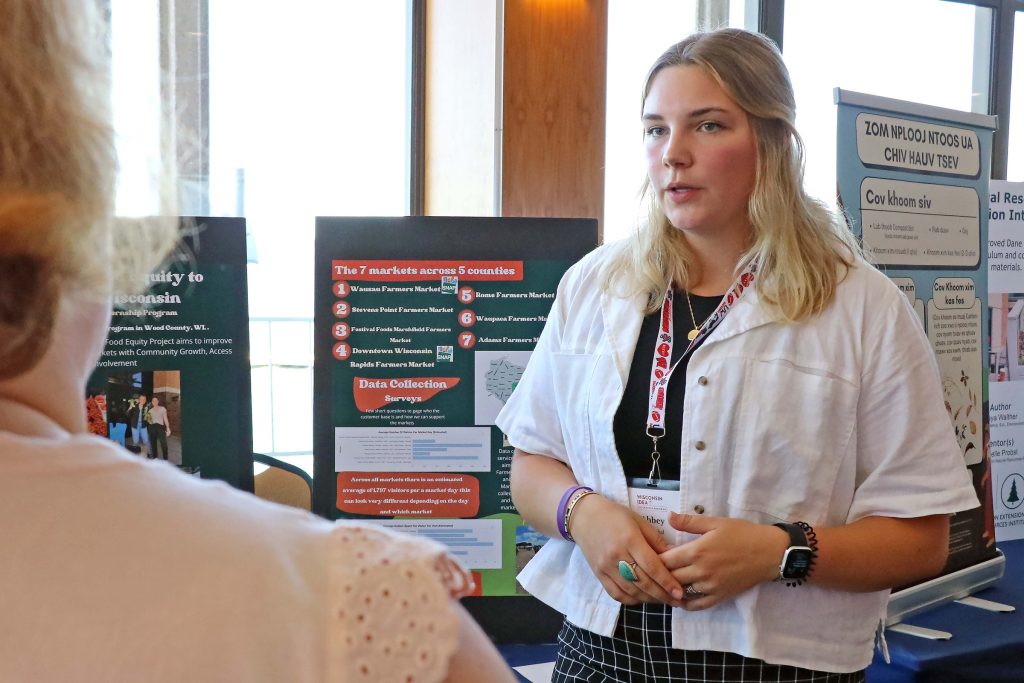 The Wisconsin Idea Internship Program (WIIP) connects University of Wisconsin–Madison students with the Division of Extension's programming and research efforts to explore how Extension embodies the Wisconsin Idea, the university's guiding principle that education should benefit people's lives beyond the classroom. WIIP is a partnership with the Division of Diversity, Equity & Educational Achievement.
Extension relaunched the program after a two-year hiatus caused by the pandemic, which provided an opportunity to leverage new campus partnerships and enhance the overall internship experience. The summer 2022 cohort comprised 18 undergraduate and graduate students, including students from outside the United States.
"This year's internship cohort enriched the diversity of our staff as much as it enriched the diversity of our work across the state," Dominic Ledesma, Extension's chief diversity officer and director of the Office of Access, Inclusion, and Compliance, said. "We wanted to offer Extension-centered opportunities that allowed interns to become familiar with new areas of the state and catch the attention of interns looking for employment in or near their hometowns."
Students' projects covered a variety of topics, including food access and equity, natural resources education, and culturally relevant communications and leadership development. Students presented their work at a showcase event at the Pyle Center on August 31.
"Sid" Chinna Subbaraya Siddharth Ramavajjala is a graduate student pursuing a master's degree in cartography and geographic information systems. He mapped food sources in Brown, Door, Kewaunee, and Manitowoc counties in order to improve food access for residents. The result is a map that residents can use to explore food options in their area.
Molly Hardwick is an incoming junior environmental sciences and conservation biology major. Hardwick supported the Wisconsin Department of Natural Resources' (DNR) Purple Loosestrife Biocontrol program by conducting site visits and entering fieldwork data into DNR's Surface Water Integrated Monitoring System, the state's repository of monitoring data for the Clean Water Act.
Maya Walther is an incoming senior political science major who is also pursuing an environmental studies certificate. Walther upgraded Extension Dane County's composting curriculum, which will be available this fall as an online course. She also improved the accessibility of outreach materials.
Genevieve Grade is an incoming senior sociology major who is also pursuing a public policy certificate. Grade worked with the Applied Population Lab to map BIPOC-led organizations in Wisconsin in order to understand those organizations' data needs. The goal is to connect organizations with each other to better serve communities.
Anshika Bhasin is a graduate student pursuing a doctorate in curriculum and instruction, and Jinke He is pursuing a master's degree in educational leadership and policy analysis. Bhasin and He worked with Elevando Wisconsin, a bilingual community leadership development program that aims to foster participants' leadership skills. Their goal was to better understand the importance of culturally relevant leadership programming and assess the impact these programs have.