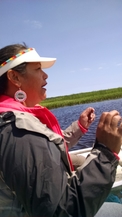 Climate Strong! builds the capacity of teachers, informal educators, and the youth to take action for building community climate resiliency within the Ojibwe Ceded Territory (Minnesota, Wisconsin, and Michigan). Climate Strong! training opportunities include:
Educator Professional Development Institutes
Youth climate "camps
Community climate leadership events
Climate Strong! applies the G-WOW climate literacy model and integrates Ojibwe traditional ecological knowledge (TEK), culture, language, and leadership teachings with scientific ecological knowledge (SEK) to promote climate action.
CLIMATE STRONG! PROFESSIONAL DEVELOPMENT INSTITUTE July 8-12 2019
Climate Strong! Institute enrollment extended through June 14! Limited to 30 participants. Please use this form to apply: 2019 Climate Strong! Institute Registration Form
Who: The Climate Strong! Institute is open to teachers and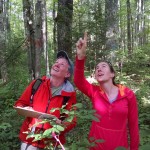 "informal" or community educators serving youth audiences, especially tribal youth or tribal communities.
When: July 8-12, 2019
Where: The Institute will be based at the Northern Great Lakes Visitor Center in Ashland, WI and neighboring tribal communities of Bad River and Red Cliff.
What Will You Learn? Here are the topics, presenters, and location featured in the 2019 Climate Strong Institute Agenda. These are powerful learning experiences that you will be able to apply in the cultures and communities you serve.
How: The Institute will feature classroom sessions, field tours, and hands on demonstrations of activities and tools you can apply in your classroom or community.
Why? This Institute will increase your climate change knowledge and leadership competencies, plus give you tools and resources to:
Weave traditional ecological knowledge (TEK) of the Lake Superior Ojibwe and place-based evidence in your community, with scientific ecological knowledge (SEK) to investigate climate change with students
Build leadership skills, personally and in your students, that integrate Ojibwe and western leadership teachings
Engage your students in culturally relevant climate leadership outreach and community-based action
Cost: FREE with stipend support to offset attendance costs. You will also receive tools, resources, and follow up support for community based climate outreach including: mini-grants to support student led community climate resiliency projects and funding to attend a Climate Strong! Camp with a student(s) from your community.
Join a growing network of teachers and educators who are engaging youth in culturally relevant climate leadership! Check out the 2019 Climate Strong! Institute Flyer for more information and help us spread the word about this great professional development opportunity!
For more information contact institute coordinator Cathy Techtmann at catherine.techtmann@ces.uwex.edu.
This Climate Strong! Initiative is a partnership with the Fond du Lac Tribal and Community College, University of Wisconsin-Extension, Great Lakes Indian Fish and Wildlife Commission, 1854 Treaty Authority, and Lake Superior National Estuarine Research Reserve, with funding through a NOAA Climate Resiliency Grant.