Since 1998 UW-Extension staff at the Northern Great Lakes Visitor Center have developed innovati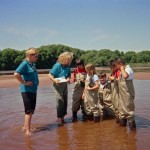 ve research based environmental education curriculum for grades pre-k through high school and for adults that address issues affecting the sustainability of Lake Superior's coastal environment and communities.
Here are some of the resources and curriculum we've developed. We are happy to share them with you! Just click on each to view the curriculum.
This curriculum takes you paddling through the geology, history, culture and ecology of the Lake Superior's Fish Creek Estuary without getting your feet wet! This freshwater estuary system, west of Ashland, WI, has always been a major player in the culture and economy of the Chequamegon Bay region. Learn about why this estuary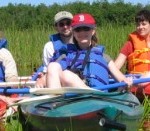 was the site of a major Ojibwe village, the landing point for the first European explorers/fur traders, how it was shaped by logging and farming, and why it remains important today. This curriculum can be modified for use in other freshwater estuary and coastal wetland environments. Created by UW-Extension educators Cathy Techtmann and Kathleen Morgen with support from the WI Coastal Management Program.
Why not get out on the water and experience Fish Creek through a guided Paddle the Pearls program? These 2-hour on-the-water ed-ventures are led offered on a reservation basis. For more information contact: Cathy Techtmann at 715.561.2695 or email Catherine.techtmann@ces.uwex.edu
A 12-series multi-disciplinary curriculum to engage middle school and above students to explore freshwater estuary or coastal wetland systems through art, STEM, mapping and sampling activities. Learners applying this knowledge to identify issues affecting the wetland system and take service learning action to address them. Curriculum units can be used individually or offer a holistic educational program to understand estuaries and coastal wetlands. Created by UW-Extension educator Cathy Techtmann with support from the WI Coastal Management Program.
Boozhoo! Bon jour! Hello! We greet you in the languages of the Lake Superior region, past and present. We are happy to share this innovative curriculum explores the relationship between natural resources, economic development, and society's needs from the pre-European contact days through the fur trade era to today. Originally developed for teaching in a 34-foot voyageur canoe and using "costumed interpretation", this curriculum takes learners "back in time" to investigate the sustainability of past uses of Lake Superior's coastal resources. It integrates Ojibwe cultural perspectives and reveals an important choice we are facing if we are to live more sustainably. You don't need to dress as a voyageur to conduct this program– although it adds to the fun! This curriculum can be adapted to any setting to investigate the issue of natural resource sustainability using historic and current perspectives. This curriculum was created by the UW-Extension voyageur team of Cathy Techtmann, Kathleen Morgen, and Elizabeth Post with support from the WI Coastal Management Program and the WI Environmental Education Board.
A cool digital library of native and invasive plants of the Ojibwe Ceded Territory of northern Wisconsin. Real life plant images with Latin, Ojibwe, and English name, habitat description, and notes on traditional uses. A great teaching tool. This project was partnership between the Great Lakes Indian Fish and Wildlife Commission (GLIFWC) and UW-Extension. Created by UW-Extension educator Kathleen Morgen and GLIFWC Biologist Karen Danielson with support from the WI Environmental Education Board.
A service learning web-based, service learning curriculum for middle and above learners that investigates critical issues affecting the Lake Superior Region, as identified by the Lake Superior Binational Program in their Lakewide Management Plan (LaMP). Learn how to take action in your community to promote a more sustainable future. Created by UW-Extension educator Cathy Techtmann with support from the EPA.
This 15-minute video, produced for the Chequamegon Bay Alliance for Sustainability by UW-Extension educators Cathy Techtmann and Tom Wojciechowski. The reveals how local citizens collaborated to create a model for community sustainability.
Lake Superior National Marine Sanctuary
Get the facts about the grassroots initiative to nominate a Lake Superior Marine Sanctuary to protect Wisconsin's Lake Superior water and marine resources.
Other UW-Extension Environmental Resources
We have many more available on a variety of natural resource and environmental topics at UW-Extension Natural Resources publications.