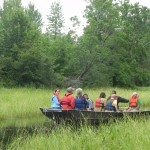 "Follow the Drop" through the Bad River Watershed.  These student documentaries created at the 2013 Earth Partnership for Schools Institute under the guidance of UW Instructional Communications Professor Patty Loew  document water quality issues and opportunities within the Bad River Watershed from its headwaters at Caroline Lake (near the proposed G-TAC open pit iron mine site) to the Kakagon Sloughs and Bad River tribal wild rice beds at Lake Superior.
Caroline Lake, headwaters of the Bad River. Investigate the importance of the Bad River Watershed and issues affecting it at Caroline Lake– the headwaters of the Bad River with Cyrus Hester-Environmental Specialists, Bad River Natural Resource Department.
Understanding Penokee Range Geology . What's the attraction with these rocks?  Explore it with Tom Fisk-Geologist, Northland College.
Take a Trip to Harvest Camp.  Get some new perspectives of the importance the Bad River watershed to Native American communities.
Kakagon Sloughs Wild Rice Tour.  Where does all that water go and why the Bad River watershed is so important?  Find out with Edith Leoso-Bad River Tribal Historic Preservation Officer.
Water Monitoring. What can we learn from the water?  Kris Stepenuck-UW Extension WAVE Action Coordinator explains what we can discover and how to do it.