---
Sorry folks, this training season I have been saying that a sequoia could live up to 6,000 years. Nope, apparently that is up to about 3,000 years. Somewhere there is a sequoia saying, " I am not THAT old, Glenn!" Just want to set the record straight.
Attention Private Applicators!
Do you know when your private applicator certification expires? This is an important message for you
[ PDF ].
Counties Giving the Private Applicator Test
---
Wisconsin has partnered with Pearson Vue to give you more access to the certification exam!
Pearson Vue is a private testing company that does testing for many different groups. They offer an official online proctored test (for 5-year pesticide certification in Wisconsin). If you have the proper equipment, you can take the test online from anywhere. You will need a great internet connection, web cam, microphone and quiet place to take the test. Or, Pearson Vue has over 50 testing centers in Wisconsin you can take the test at. In another state? Don't worry, take the Wisconsin test anywhere in the U.S. online or at a Pearson Vue testing center in that state. Get your results immediately and your credentials within 3 business days of testing! Pearson Vue charges $45 per test. DATCP still offers the exam at their testing centers at no charge. The Private Applicator General Farming exam is also available through Pearson Vue.
To create or sign into your Pearson Vue account, or find a testing center in your area Click Here.
For information and Instructions about Pearson Vue tests Click Here.
To schedule a certification exam with DATCP Click Here.
The Difference Between Certification and Licensing: They are not the same.

For questions about certification, licensing, Commercial Applicator testing (in-person), regulations and pesticide laws please contact DATCP at datcppesticideinfo@wi.gov.
If you have questions about training materials and online access to a course, please contact the UW PAT Program at patprogram@mailplus.wisc.edu.
---
What is the PAT Program?
The University of Wisconsin Pesticide Applicator Training (PAT) Program develops and provides educational material to help you become certified to apply pesticides in Wisconsin. In order to become certified, you must pay a certification fee to obtain some of these educational materials. You can learn more about the certification process on the "Certification" page.
Before ordering, you should determine whether you are a "commercial" or "private" applicator because your options are different for each. You can find out the difference between commercial and private applicators by clicking on the "certification" or the "ordering materials" menu link above.
There are many different categories you can get certified in (list of categories here). With your certification fee, you can choose to get a printed manual, a PDF manual, or an online course (for some categories only). Don't know which to choose? Check out this podcast for an introduction to these choices: What Should I Order?
Having trouble navigating through our online ordering process? Here's a podcast that explains how to do it.
Ready to order?
Click either of the links below.
---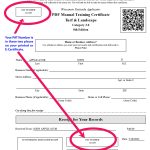 PLEASE BE AWARE
Training Registration Certificates (TRC): If you ordered a printed manual, your TRC is folded and placed between the front cover and the first page of your manual. If you order a PDF or online course, we email your E-Ticket to you. DO NOT lose this certificate. You must bring this page with you when you take your certification exam. The exam proctor from the DATCP will collect it. Your exam will not be processed without the certificate. If you lose this form, there is a $10 fee to replace it.
---
The Wisconsin Department of Agriculture, Trade and Consumer Protection's Role in Certification
DATCP enforces the pesticide laws in Wisconsin. DATCP also writes and administers the certification exams and grants certification. DATCP also issues individual pesticide applicator and pesticide application business licenses in the state. Note: The UW PAT program does NOT write or administer the certification exam. Also, the exam is NOT given at the UW-Madison campus. Exams are given ONLY at DATCP test-only facilities (commercial only), at training/review sessions, or through Pearson Vue testing. DATCP provides the test location on the receipt you get when you schedule an exam. You need to contact DATCP (see below) for any questions dealing with scheduling an exam, exam results, or any other exam-related questions.