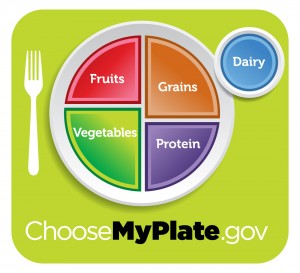 I myself have to be more on the healthy side. I had a heart attack in June, [my husband] had a heart attack in January, and I am diabetic. So in theory I'm supposed to really be watching what I am eating. – Food pantry client
The University of Wisconsin-Extension runs a SNAP-Ed funded nutrition education program targeting individuals and families with limited incomes in 68 Wisconsin counties. The goal of this program is to improve the likelihood that persons eligible for SNAP (known as FoodShare in Wisconsin) will make healthy food choices within their limited budgets and choose physically active lifestyles consistent with the current Dietary Guidelines for Americans. To learn more and discuss partnership opportunities

contact

your county UW-Extension Nutrition Education Coordinator.
Point of decision prompts

(sometimes known as point of purchase prompts) have been shown to influence dietary behavior. Often posted as a

sign

or symbol next to a product, decision prompts provide a nudge to select one particular product over another. This strategy might also be effective in the food pantry setting. The food pantry could post simple signs that reinforce key nutrition messages such as, "make half your grains whole" or "eat a variety of fruits and vegetables every day."

Check with your local Public Health Department to see if any point of decision prompts have been implemented in your community's grocery stores or restaurants. If so, you could build off of the criteria established for that program and utilize the same images and messages to reinforce branding.

Additional nutrition messaging can be achieved by placing posters and other educational materials around the food pantry. The USDA has developed consumer-messaging materials in both English and Spanish. Materials are available to download and print for free.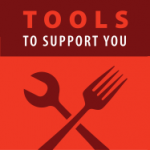 Point of decision prompts

Point of decision prompts – English & Spanish
Volunteers are regularly cited as an important factor in determining the success of a food pantry's operation. Consider how you can use volunteers in new ways to provide support to guests as they make their food selections. Volunteers could be trained in the food pantry layout and distribution and accompany guests through their visit to provide support in making healthy choices. Combined with a

guest-shopping list

that aligns with the DGA, volunteers can answer guest questions about unfamiliar food products, provide ideas on safe storage and preparation, and encourage the selection of healthier products.
Providing recipes is a great way to help ensure that guests select certain products (such as uncommon fruits, vegetables or dried beans). Whenever possible, it's even better to prepare a sample recipe that guests can smell and taste. Plus, TEFAP allows taste testing as a form of nutrition education! It is important to remember that not all recipes are created equal. Recipes provided at the food pantry containing a small number of common ingredients are easier to read and prepare.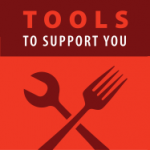 Selecting recipes for use at food pantries
The Healthy Weighs for Less curriculum is designed for use with food pantry audiences and was developed for delivery of SNAP-Ed programming in food pantries. The curriculum consists of twelve individual mini lessons, approximately 20 minutes in length. Lessons are most effective if conducted with 3–15 learners. Please click here to view the first several pages including table of contents.  If you would like to download a free pdf copy of the curriculum, please email us.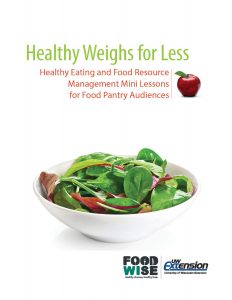 University of Missouri Extension Stock Healthy Shop Healthy resources:

You can download English and Spanish Signs, Shelf Talkers and Recipe Cards to encourage healthy eating.