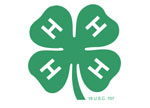 4-H is a community of young people across America who are learning leadership, citizenship and life skills.  In Waushara County, youth in 5 year old Kindergarten through one year past high school graduation join a 4-H club and enroll in projects that spark their interest.   4-H clubs typically meet monthly.  At their meetings they plan ways to help their community, potential fund raiser to support club projects, what they would like to learn about and what fun, social activities they would like to do together.   In addition to opportunities through your 4-H club, volunteer leaders and the UW-Extension office provide many additional fun learning opportunities.
Youth can join 4-H at anytime throughout the year.  Reenrolling  members  need to sign up by November 1 and new members by March 1 to have the privilege of showing at the Waushara County Fair as a 4-H junior exhibitor.   Youth joining after these deadlines can still participate in our many educational opportunities and 4-H club meetings throughout the year, they will just need to wait until the following year to exhibit at the county fair as a 4-H member.
4-H opportunities are also offered periodically in conjunction with one of the county's after school programs or summer library and other community programs.
For more information about our community 4-H clubs, please visit the Joining 4-H page.
Cloverbuds and Explorers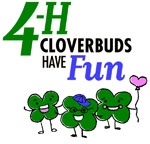 Cloverbuds is open to youth in grades K through 2.  They exhibit at the county fair like older members, but it is limited to seven projects.  The judging is held on Wednesday from 2-7 pm.  The projects are judged face to face with the judge.  All of the cloverbuds who enter receive a ribbon.
Explorers is for youth in grades 3-5.  Their judging is also held on Wednesday from 2-7 pm and is done face to face with the judge.
Cloverbud and Explorer Day Camp
Two day camps for Cloverbuds and Explorers are typically held; one in winter and one in summer. Older members and leaders chose a theme and plan games and activities of interest to members. The winter camp is held at the Courthouse and the summer camp is held at Camp Lakotah. A camp fee is collected.
If you have any questions regarding 4-H Youth Development in Waushara County, please contact:
Heidi Hensel-Buntrock
Waushara County – UW Extension
Courthouse
209 S St Marie
PO Box 487
Wautoma, WI 54982-0487
Phone: 920-787-0416
Fax: 920-787-0425
Email: Heidi.henselbuntrock@wisc.edu