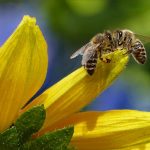 From Civil Eats, February 2, 2021.
Scientists point to the long-term negative impacts of neonicotinoids, and advocates hope a regulatory overhaul will help.
Last June, a national partnership that tracks honey bee population declines released the results of its annual survey. Between April 2019 and April 2020, beekeepers reported losing nearly 44 percent of their colonies, the second highest rate since the first survey in 2010.