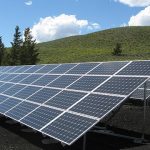 From Wisconsin Public Radio, March 24, 2021.
A Wisconsin-based organic cooperative is offering farms low-interest loans to invest in clean energy projects.
Organic Valley announced their "Powering the Good" loan fund on Monday. Created through a partnership with Clean Energy Credit Union, the $1 million initiative will provide loans at below-market rates to Organic Valley producers for projects like solar electric systems and geothermal heating and cooling.