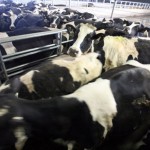 From CNN, May 10, 2021.
Air pollution from food production in the United States is linked to an estimated 15,900 premature deaths each year, according to a new study published Monday in the Proceedings of National Academy of Sciences of the United States of America.
Of those, an estimated 12,700 deaths — around 80% — are connected to production of animal-based foods.