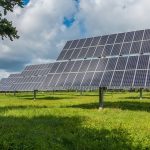 From the Wisconsin State Journal, May 21, 2021.
Wisconsin regulators have approved construction of a controversial 1,400-acre Sheboygan County solar farm over protests from nearby residents.
The Public Service Commission voted unanimously Thursday to approve the 150-megawatt Onion River solar project in the town of Holland, which is expected to produce enough electricity to supply nearly 40,000 homes and is one of six plants being built for Alliant Energy as part of a plan to replace coal-fired plants with renewable energy.