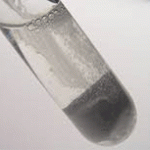 From the AP, July 4, 2021.
DES MOINES, Iowa (AP) — In the dim light just after dawn, Bill Blubaugh parks his Des Moines Water Works pickup truck, grabs a dipper and a couple plastic bottles and walks down a boat ramp to the Raccoon River, where he scoops up samples from a waterway that cuts through some of the nation's most intensely farmed land.
Each day the utility analyzes what's in those samples and others from the nearby Des Moines River as it works to deliver drinking water to more than 500,000 people in Iowa's capital city and its suburbs.
"Some mornings walking down, it smells like ammonia," he said. "It's concerning. I'm down here every morning and care about the water."