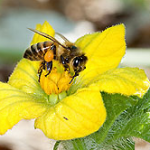 From E & E News, April 20, 2021.
Many studies already claimed the nation's most-used weedkiller was lethal to bees, but new research indicates its much-maligned active ingredient — glyphosate — isn't to blame.
Instead, the culprit appears to be inert ingredients added to the herbicide, such as wetting agents called surfactants, according to researchers at Royal Holloway, University of London.
Groups critical of pesticides, such as the Center for Biological Diversity and the Center for Food Safety, urged EPA to put new controls on the use of the ingredients, which often aren't disclosed on labels.