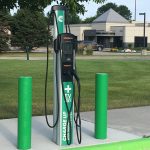 From the Wisconsin State Journal, December 24, 2021.
With automakers and utilities fast moving toward electric-powered transportation, some Republican lawmakers say it's time for the state to catch up.
GOP bills making their way through the Legislature could help the state build out its electric vehicle charging network and create a new framework for industry regulation.