Project will increase access to healthier food and safer locations for physical activity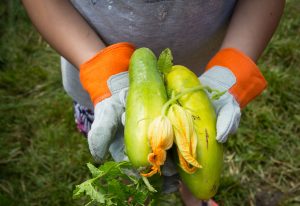 CONTACT:
Kimberly Beaumier, Kimberly.beaumier@ces.uwex.edu, 715-799-6226 ext 5712
OR
John Kriva, john.kriva@uwex.edu, 608-262-9311

The National Centers for Disease Control and Prevention (CDC) awarded the University of Wisconsin-Madison Division of Extension $2.5 million over 5 years to work with partners to improve the health of citizens in Menominee County/Nation. This grant will employ evidenced-based strategies grounded in Menominee Nation cultural practices to address chronic health problems in the community. The project is named Kemāmaceqtaq: We're all moving and will focus on increasing access to healthier foods and expanding access to safer locations for physical activity.
"We are grateful to be a partner with Extension in addressing this chronic health issue," said Brian Kowalkowski, Dean for the Department of Continuing Education at the College of Menominee Nation. "Extension has decades of experience with evidence-based community revitalization and health promotion programs. History shows Extension's commitment to sustained partnerships in communities and authentic relationships with local leaders."
The Kemāmaceqtaq: We're all moving project will focus on 3 strategies. They are:
Collaboration with partners to improve the food system to increase access to healthier foods
Establish nutrition standards in key community settings and local events and programs
Collaborate with partners to establish new or improved active transit systems, like sidewalks, paths and bicycle routes
"This grant will build on existing initiatives and activities that support healthier eating and increased physical activity," said Jennifer Gauthier, Menominee County Extension Community Development Educator. "We will reinforce a culture of health guided by our traditional practices, including engaging intergenerational leaders."
Work has already begun on achieving the project goals. Kim Beaumier, formerly at the Menominee Tribal Clinic, was hired as the Project Manager. A project kick off meeting attended by over 30 individuals occurred on January 11, 2019 at the College of Menominee National Cultural Center. Project next steps include conducting community assessments and engaging community members in creating a vision for healthy eating and active living environments. The project is working toward seeing early results by mid-summer and will regularly report progress at the Menominee Wellness Initiative.
For more information about the Kemāmaceqtaq: We're all moving project or to get involved, please contact: Kimberly Beaumier, Kimberly.beaumier@ces.uwex.edu, 715-799-6226 ext 5712.