From Karl Martin, Dean and Director, UW-Madison Division of Extension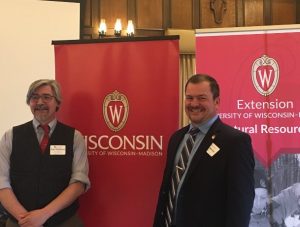 Recently, the Division of Extension and the Nelson Institute brought together University of Wisconsin-Madison faculty and staff as well as Extension colleagues from across the state to look at the issues surrounding surface water and groundwater quality. The event was the second in our series looking at ways to foster collaborative learning and outreach opportunities with the UW-Madison campus. I wanted to highlight how these events are showcasing Extension's reach and value – especially utilizing our transition to UW-Madison.
As I was listening to panelists talk about ways to partner to improve water quality, and when I saw the many varied and rich table discussions along the same lines, what struck me most was the enthusiasm and readiness of everyone involved. Around 100 people attended the water quality event last Friday (May 3, 2019), facilitated by our Institute for Natural Resources Director Tricia Gorby. Attendees were making connections – identifying ways to partner and engage on shared efforts and shared concerns.
It reminded me how well positioned we are at the Division of Extension to respond to and address issues across the state, and how we can leverage the world-class knowledge of UW-Madison. Here was an example unfolding right before us in which leading researchers were meeting and exchanging ideas with Extension educators and researchers located and working across the state who represent regional and community needs.
I saw a similar theme develop from our first collaborative event with UW-Madison around opioids back in March. We came away with new ideas for research and resources – and I'll be looking for more as we continue this series as the year progresses. We'll be hosting four additional events this fall, with the intention of surfacing issues facing communities and strengthening our partnerships to address these issues.
I will share more information on upcoming events as we get closer. I will also be sharing next steps for us all to get involved. The goal of these events is to further action across the state, and we will be identifying many ways to leverage our partnerships and connections across Wisconsin.