Contact: Matthew Call, mcall@wisc.edu, (608) 262-7495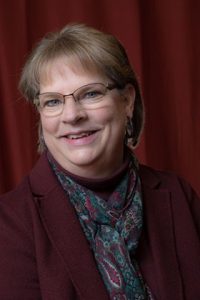 Ruth Schriefer, professor and Human Development & Relationships educator for University of Wisconsin–Madison Division of Extension, has been named the inaugural Academic Chair for Department of Extension faculty. Schriefer, who has been an Extension educator since 1983, will chair a department of 100 Extension faculty based across the state.
Extension's faculty provide research and expertise to Wisconsin counties in areas including Agriculture, Community Resource Development, Family Development, Natural Sciences, and Youth Development. As Extension has transitioned to the UW–Madison from UW System, Extension faculty have also undergone that transition as well – prompting the important new role of Extension Academic Chair.
Schriefer is the Human Development & Relationships Extension educator for Iowa County and previously was the interim state director for Family Living programs and a 4-H Youth Development educator in Manitowoc and Dane counties.
Schriefer was appointed to the Academic Department Chair by Extension Dean and Director Karl Martin. Her selection was also made with support of a vote by Extension faculty.
"Ruth is highly regarded by her faculty and staff peers, is a highly respected extension educator, and has a long history with Extension in both 4-H Youth Development, Family Living, and now Human Development and Relationships," Extension Dean and Director Martin said. "There will be no shortage of work during the upcoming year with the creation of the new Department, transition of Extension Faculty to UW–Madison, and collaborative efforts to determine a successful path for new faculty colleagues within the Division of Extension. I look forward to working with Ruth in her new role as we enter a new and exciting time for the Division of Extension."
Schriefer's priorities as Academic Chair will be to serve as a liaison between UW–Madison faculty groups and Extension faculty, who are almost entirely based outside of Madison.
"We are dispersed, and that's unlike most UW–Madison departments," Schriefer said. "We excel in outreach, and we excel in education. That's what the Wisconsin Idea is all about – we take University knowledge and research to where people live and work."
Schriefer has a Master of Science in administrative leadership with an emphasis on adult education from the University of Wisconsin-Milwaukee and a Bachelor of Science in home economics education with a concentration in Extension from the University of Wisconsin-Stout.
Schriefer began her role as Department Chair role on August 12.