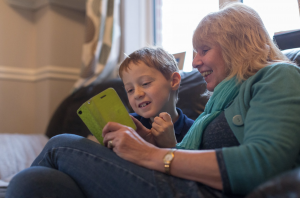 Anne Clarkson
Extension Digital Parenting Education Specialist
University of Wisconsin-Madison
Division of Extension
anne.clarkson@wisc.edu
608-206-6317
Total Time: 5:20
0:10 – What is digital parenting?
0:51 – Programs of e-parenting
3:38 – Results from e-parenting
4:44 – Information and resources
5:09 – Lead out
Transcript:
Adam Wigger: Parenting in the 21st century. Today, Anne Clarkson is calling in, Extension Digital Parenting Education Specialist, University of Wisconsin Madison Division of Extension, and I'm Adam Wigger. Anne, what exactly is digital parenting?
Anne Clarkson: Digital parenting is both providing resources for parents that are online so that parents can access those resources about child development or parent-child relationships at any time of day or night. But then for us, digital parenting also means that we have resources for families about how to incorporate technology into their lives with children. So what are ways that families can positively use technology to build relationships with their child or to communicate better with their child instead of only focusing on the negative or harmful aspects of technology.
Adam Wigger: What kinds of programs do you utilize for this?
Anne Clarkson: We have a whole variety of programs. So we have programs that cover basically any developmental stage. So we have programs for families that have newborns all the way up to families that have a senior graduating from high school or maybe are families that are dealing with a divorce or a separation. So some of our programs are called e-parenting and these are a set of programs that we've developed here in Wisconsin. And the whole purpose of our three e-parenting programs is to support families in thinking about how to positively use technology. So the very first program that we created was called e-parenting high tech kids, and high tech kids is geared toward families who have 9 to 14 year olds, you know, just really starting to gain that independence with technology and helping parents think about how can they protect and monitor their children with the technology, but also be teaching positive skills with technologies for their kids, showing love and communication through that technology and high tech kids was such a success. We deliver it through middle school and junior high schools in Wisconsin. It was such a success that when parents asked for a similar product for younger children, we developed something called e-parenting little ones. And that's the same concept but for families who have toddlers or preschoolers. And then finally, we developed a program called the E-Parenting Co-Parenting, which is the same concept, positive technologies. But for families that maybe aren't living in the same household, so maybe they're separated because of divorce or they're separated because of a job, that means one parent is traveling a lot. And on each of those programs are delivered a little bit differently, like e-parenting little ones we deliver using partnerships with child care centers and E-parenting Co-parenting, we deliver via text message to families. So those are E-parenting programs. And then we also have a host of other resources that are delivered digitally. So, for instance, we're part of a national partnership called Just In Time Parenting, which is an online newsletter that's age based for parents of zero five year olds. So when your baby is eight months old, you get a newsletter for eight months old. When your child is four, you get a newsletter for four year olds and that just shows up in parents inboxes.
Adam Wigger: What kind of results do we see from digital parenting?
Anne Clarkson: Yes. So our results show that our different digital family engagement programs can increase parents knowledge. So we're increasing parents knowledge about child development, their knowledge about what positive parent child relationships look like. And then for those programs, the e-parenting programs that I described that have a focus on positive technology we also see parents reporting increased confidence or knowledge about how to engage and make choices around technology use with their kids. And then another kind of fun benefit of these programs is that we find families have increased knowledge and an increased sense of connection with Extension. So by receiving, you know, this email newsletter from their schools, that is our e-parenting program, for instance, it connects parents to their county office or our face to face programming.
Adam Wigger: Where can listeners go to find more information?
Anne Clarkson: Okay. So the best way to get all of our resources is parenting.extension.wisc.edu and on that website we have all of our resources available for free. Families or practitioners, community members can all go and look through or access and share our material.
Adam Wigger: Thanks for calling in, Anne. We visited today with Anne Clarkson, Extension Digital Parenting Education Specialist, University of Wisconsin Madison Division of Extension, and I'm Adam Wigger.