The City of Madison and the University of Wisconsin-Madison Division of Extension have collaborated to fill an urgent need for food cart and truck vendors during the COVID-19 emergency: trusted guidelines for how to navigate business during this time.
"The guide covers a variety of topics from best practices in food safety to identifying new business opportunities," said Erin Peot, Extension Community Food Systems Outreach Specialist. "It covers how to shift business models and how to utilize resources such as grants, loans, and childcare support."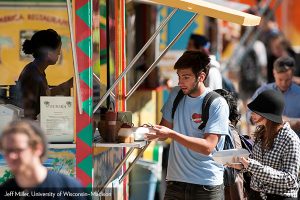 With quickly changing information and new requirements coming from a variety of channels, it can be difficult for food cart/truck operators to keep up. The guide is industry-specific and created by trusted resources to provide clear concise assistance.
"These businesses operate on very small margins. Vendors are seeing a huge drop in customers. A traditionally strong vending location is no longer viable since many of the customers are now working from home," said Meghan Blake-Horst, Street Vending Coordinator for the City of Madison. "Another large revenue stream is special events that have been canceled or postponed. The unknown of how we will scale back up events is extremely hard to plan for."
The guide is available now and will be available in Spanish soon. It will be updated as the situation continues to evolve.
Resource Guide for Wisconsin Food Cart and Truck Vendors
For more information contact Meghan Blake-Horst at mblake-horst@cityofmadison.com or Erin Peot at erin.peot@wisc.edu.