Contact: Heidi Johnson, Extension Agriculture Institute Director, heidi.j.johnson@wisc.edu OR
Jim Versweyveld, Extension Walworth County Agriculture Educator, jim.versweyveld@wisc.edu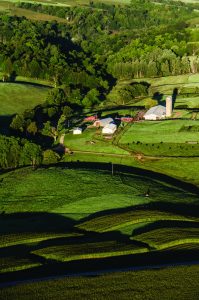 Agriculture plays a vital part of the economy in nearly every Wisconsin county, whether urban or rural, contributing both jobs and income. The economic impact varies from county to county as do the commodities represented.
"While the COVID-19 pandemic has had a negative impact on jobs and businesses throughout the state – including agriculture, Wisconsin farmers and farm businesses continue to provide food for local and global consumers," said Karl Martin, Dean and Director, University of Wisconsin-Madison Division of Extension.
An updated University of Wisconsin-Madison study completed prior to the COVID-19 pandemic, examined the economic impacts of agriculture at the county level using data from 2017.
"Although data for the county reports does not reflect activity in the recent months, it provides a basis and perspective of agriculture trends," said Heidi Johnson, Extension Agriculture Institute Director.
Family-owned farms, food processors and agriculture-related businesses generated thousands of jobs and millions of dollars of economic activity while contributing to local income and tax revenues. While dairy is the number one commodity in most counties, other top commodities include grain, poultry and vegetables. Several counties have a strong green industry presence that includes greenhouse and nursery operations. Agri-tourism and farm-to-table businesses are also adding to agriculture's economic impact in counties throughout the state.
According to the "Contribution of Agriculture to the Wisconsin Economy: Updated for 2017" study released by Steven Deller, Division of Extension community development economist and professor in the Department of Agricultural and Applied Economics at UW–Madison, statewide, agriculture is a $104.8 billion industry and provided 435,700 jobs. Other findings include:
In 36 Wisconsin counties, agriculture impacts 3,000 or more jobs; 5 of those counties have more than 10,000 ag-related jobs
In 42 Wisconsin counties, agriculture stimulates more than $500 million in industry sales
In 18 Wisconsin counties, agriculture generates more than $32 million in sales, property and income taxes
Information about each county's top commodities, the number of people employed by agriculture-related businesses and the economic impact is available online at https://go.wisc.edu//i0ja99.
This research was done to help communities and agricultural leaders make informed decisions that leverage Wisconsin's agricultural strengths. The study was made possible because of strong partnerships with the Wisconsin Department of Agriculture, Trade and Consumer Protection; Dairy Farmers of Wisconsin and Wisconsin Farm Bureau