Date: Aug 10, 2020
Contact: Barb Ingham, Extension Food Safety Specialist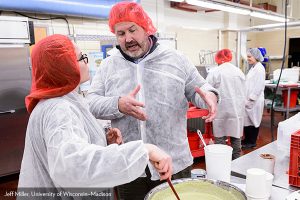 The University of Wisconsin-Madison Division of Extension will host the second webinar in a two-part program on the topics of food safety during COVID19 and processing/manufacturing and licensing requirements for small scale food entrepreneurs in Wisconsin.
On Monday August 10, Barbara Ingham, Food Safety Specialist, University of Wisconsin-Madison Division of Extension, will answer basic questions about the types of licenses a food business may need and standards for a food production facility. She will provide tips on developing food safety plans and offer hints for locating resources and support for food entrepreneurs who want to license their business in Wisconsin. This webinar is intended for small food businesses and facilities and programs that support these entrepreneurs. While focused on Wisconsin, food businesses in other states are welcome to participate. Extension educators are welcome to attend.
The webinar is free but registration is required. Trainings in Spanish will be available soon, if interested, please indicate in the registration form.
Webinar: August 10, 9:00 – 10:00 a.m. – Starting a food business in Wisconsin: keep food safety in mind. (What are the licensing requirements for starting a food business in Wisconsin?)
Find more resources and ongoing support for licensing/food safety/product development at hppts://foodsafety.wisc.edu, 608-263-7383 or bhingham@wisc.edu (Barb Ingham, Extension food safety specialist)
One-on-one support for food businesses with food safety questions
Support for small food businesses trying to meet licensing requirements
Supporting food businesses in manufacturing safe food under license
Resources to assist with product development and production/packaging questions
SAVE THE DATE
VIRTUAL EDIBLE START UP SUMMIT – November 9-10, 2020
The Edible Startup Summit is a two-day virtual training program to provide you with the knowledge and connections to launch your food business. Hear from successful food entrepreneurs and business development experts about various aspects of building a sustainable food business. You'll learn about trends in the food sector; product development; business planning; food safety, licensing, and regulations; financial record keeping, financing, and pricing your product.