This year's graduates of the Wisconsin Local Government Leadership Academy embraced John F. Kennedy's observation that "Leadership and learning are indispensable to each other." 
The Local Government Leadership Academy focuses on four primary skills of being an effective local government leader: relationship-building, communication, decision-making and vision. Each of these four topics is grounded in the idea that we lead in service of the community and can accomplish more when we work together.
This year's graduates learned more than anticipated when COVID-19 necessitated moving the Academy online. Eighteen participants were able to complete the work, enhance their leadership skills, and graduate despite the additional challenges of the last few months.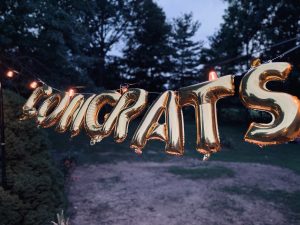 I was able to "form relationships with fellow leaders and to identify my leadership strengths and weaknesses to help overcome current and future challenges," said Greg Ashauer, Outagamie County Deputy Information Technology Director.
The graduates, who work in a variety of local government positions, gathered from across the state and gained skills they can apply immediately. 
Kalene Engel, Town Clerk for the Town of Milton, acknowledged that the Academy "provided the tools and information necessary to take my leadership to new heights in all of my roles." 
Learn more about our graduates in this video celebrating their graduation. We congratulate all of them for their achievement:
The Local Government Leadership Academy is a collaborative effort between the Wisconsin Counties Association, Leadership Wisconsin, and UW-Madison Division of Extension. The Academy serves:
elected officials who understand the basics of their role and are ready to take on new leadership challenges.

department heads, directors and managers who are new to leadership roles, as well as those aspiring to or preparing for leadership roles.

anyone interested in becoming a more effective leader in local government.
Registration for the 2021 Academy is now available. Learn more about the curriculum and schedule. 
For more information, contact Jeremy Solin, Leadership Project Specialist, Community Development Institute, UW-Madison Division of Extension
2020 Local Government Leadership Academy Graduates
Greg Ashauer, Outagamie County Information Technology 
Kalene Engel, Town of Milton Finance
Greg Erickson, Waushara County Department of Human Services
Tracy Finch, Burnett County Sheriff's Department
Kathy Fuchs, Pierce County 
Kari Ives, Chippewa County Board
Bradley Klingsporn, Brown County Finance
Tara Krall, Iron County Operations and Trails
Paul Logan, Dane County Operations
Eric Mueller, Wisconsin Legislative Reference Bureau
Catherine A Roeske, City of Oak Creek
Ardith Story, Village of Turtle Lake
Jason Towne, Burnett County Land Services
Mary Truman, Jefferson County Parks
Thomas Vaughan, Dane County Public Safety Communications Center
Charlie Wieder, Jefferson County Buildings and Grounds
Jameson Wiltrout, Burnett County Sheriff's Department
Kelly Witucki, Jefferson County Operations