Contact:
Kimberly Beaumier | Project Manager, Kemāmaceqtaq
Demonstrating a commitment to the health and well-being of employees, Menominee County adopted a Food, Beverage and Healthier Work Environment Policy that prioritizes community values, including healthier food choices, environmental sustainability and physical activity in the workplace.
The policy was developed over the past six months as the Menominee County Administration, Finance, Land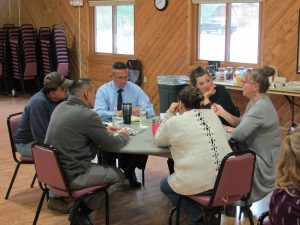 Information Office, Human Services, Highway, Sheriff's Office and the Clerk of Courts Office partnered with the University of Wisconsin – Madison Division of Extension.
This work is part of a broader five-year grant from The National Centers for Disease Control and Prevention (CDC) to the University of Wisconsin – Madison Division of Extension. The project, known as Kemāmaceqtaq ("We're All Moving" in Menominee language), aims to strengthen the indigenous food system, implement policies that promote access to healthy foods and create opportunities for movement, including walking and biking.
The Food, Beverage and Healthier Work Environment Policy aligns with the Food Service Guidelines for Federal Facilities and features several innovative components:
Access to chilled, potable water for employees and the public at all County buildings
Healthy alternatives in all vending machines and other points of food purchase
Nutrition requirements for packaged snacks, such as limited sodium, trans and saturated fats
Replacing single-use plastic beverage bottles with reusable and/or compostable products for all Menominee County meetings
Smoke-free public entrances and designated smoking areas for employees and the public
"We are always trying to find ways to help employees with ideas to become a little healthier," said Elizabeth Moses, Menominee County and Town Board Chair. "I think [this policy] is important for us because we have the highest rating of unhealthy behaviors, and not just behaviors, but diabetes and other conditions. We really need to work on those things and healthy foods and beverages are a great start."
Policy development started with a Menominee County Health Risk Assessment Survey, conducted in December 2019. The results showed that 46% of respondents did not have a healthy weight and 48.6% tested positive for tobacco/cotinine – a byproduct of nicotine.
"We weren't very healthy," said Steve Summers, Foster Care Coordinator for Menominee County Human Services, referring to the food offered for purchase on-site by employees. "As soon as this came out, we were the first ones to be on board, saying yes we need change, we need to do this."
In a survey assessing vending preferences, 77% of employees at the Menominee Tribal Clinic reported interest in healthier food options and/or Menominee foods.
"I'm excited that the county is realizing that we need to have healthier choices. I'm glad they are recognizing that we need to be healthier, we need self-care. A lot of times a lot of us don't do self-care because we are worried about everyone else's care but our own," said Summers. "It is a big difference from nine years ago when I started."
Through adoption of the Food, Beverage and Healthier Work Environment Policy, Menominee County strives to be a model of health not only within Menominee County, but throughout the state of Wisconsin.
"I really think this policy can benefit everyone," shared Moses.
For more information:
For more information contact Kim Beaumier, Project Manager, at (phone) 715-799-6226 ext 5712 or (email) kimberly.beaumier@wisc.edu Also please visit Extension Menominee County/Nation Facebook page, the Menominee County/Nation website and the Kemāmaceqtaq Flickr page.