Contact: Eric Olson, Extension Lakes Director, eric.olson@uwsp.edu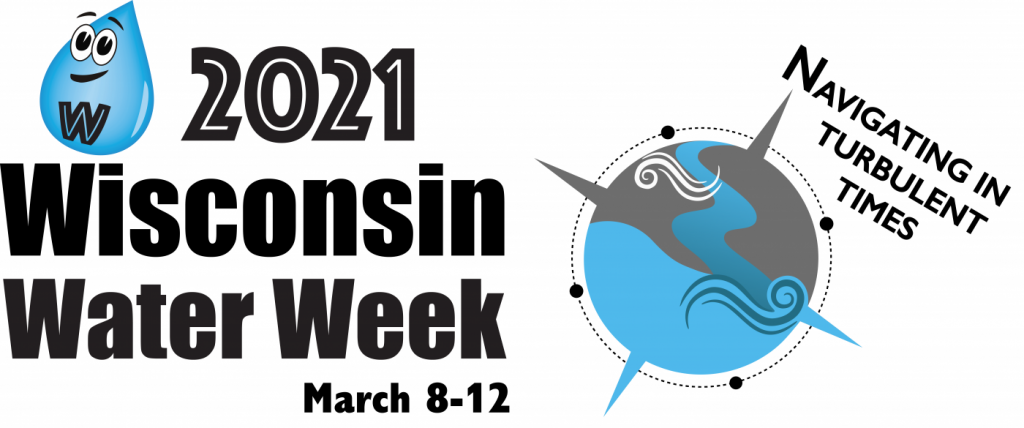 Anyone who loves water is invited to participate in Wisconsin Water Week, a virtual, interactive event occurring March 8-12, 2021. Attendees will have the opportunity to learn from respected experts, engage in discussion sessions and interactive workshops, and enhance their network of water-focused professionals. Join the event online from wherever you are for one day or the whole week using a computer, tablet, or smartphone.
Monday, Tuesday, and Wednesday all include mornings with an impressive offering of live, content-rich educational presentations and time for speakers to answer questions from the audience. Afternoon content will be more interactive, with live panel presentations and small group discussion breakouts that invite participants to contribute their ideas and experiences to the gathering. Thursday focuses on ten simultaneous regional water conferences that will explore issues and solutions specific to their area. Friday, March 12, provides an opportunity to connect with your local lake, river, or watershed organization (or maybe just a small group of neighbors) to take what you've learned and turn that enthusiasm, knowledge, and shared experience into local action.
Each of the first three days feature unique themes:
Monday is a day for big water systems, looking at climate, groundwater, and massive waterways like the Mississippi River and Great Lakes.
Tuesday's agenda focuses on the water bodies of Wisconsin, including the plants and animals that live in and around them, exploring the science of monitoring the health of lakes, rivers, and wetlands.
Wednesday highlights water actions, with presenters sharing success stories and discussions centered on how individuals and communities can take action to improve their local waters. Nearly 200 different presenters will join the event live to share their knowledge of water, ecology, advocacy, and management.
Several keynote presentations are scheduled throughout the week. Monday's keynote will be presented by Dr. Katharine Hayhoe, an atmospheric scientist whose research focuses on understanding what climate change means for people and the places where we live. Her presentation will integrate social science and climate research to explain why we need more than just facts to help us avoid the worst consequences of climate change. The keynote session on Tuesday will feature former Wisconsin Governor Tommy G. Thompson, now President of the UW System, and Dr. Marissa Jablonski, Executive Director of the new Freshwater Collaborative of Wisconsin based at UW Milwaukee. They will explain how all the campuses of the UW System are contributing to water management solutions. Wednesday's schedule includes a morning keynote from Dr. Patty Loew, a longtime journalist on Wisconsin Public Television who is now Co-Director of Northwestern University's Center for Native American and Indigenous Research. A lunchtime presentation will highlight new science-policy fellowships that leverage the research capabilities of UW Madison to help state agencies like the Wisconsin DNR accomplish their missions.
Registration for Wisconsin Water Week is open now at wisconsinlakes.org and costs only $20/day. The registration site includes the entire week's agenda. This event was created through the efforts of the Wisconsin Lakes Partnership, including Wisconsin DNR, Extension Lakes, and Wisconsin Lakes. Stop by and see how you fit into this unique Partnership and help care for our shared water legacy.
Wisconsin has an incredible team working for the continued well-being of our lakes. With 15,000+ lakes, no one entity can do the job alone. The Wisconsin Lakes Partnership joins science, education, and citizens to empower people to work together to care for our lakes. Since its genesis in the early 1970s, the Wisconsin Lakes Partnership has been recognized as a national model of collaboration. This Partnership has three base partners: the Department of Natural Resources (which supplies scientific research, technical expertise and regulatory authority), the Extension Lakes Program (which provides supporting educational materials and programs), and Wisconsin Lakes (which mobilizes citizens to be advocates for lakes). 
This partnership is a statewide, multi-faceted effort that reaches far beyond the core groups to include regional, county, tribal, non-profit, statewide, and federal partners. Our goal is to continue to protect and preserve our shared water legacy and support those meeting the challenges that come with the management and stewardship of Wisconsin's lakes.