Twenty-one individuals were recognized this month for their completion of the Wisconsin Local Government Leadership Academy. Their graduation took place at the Wisconsin Counties Association annual conference in the Wisconsin Dells.
The Local Government Leadership Academy is a collaborative effort between UW-Madison Extension, Wisconsin Counties Association, and Leadership Wisconsin, Inc. During the 9-month program participants focus on four primary skills of being an effective local government leader: relationship-building, communication, decision-making, and vision. Each of these four topics are grounded in the idea that we lead in service of the community and can accomplish more when we work together.
The graduates, who work and serve in a variety of local government positions, gathered from across the state and gained skills they can apply immediately. Katie Van Zeeland, District 5 alder and president of the Appleton Common Council, says, "The Local Government Leadership Academy helped me understand more from the perspective of public employees and allowed me to provide employees the perspective of legislators. It was great to share challenges and successes with other leaders and to watch as we all made progress." In addition, the Academy participants develop relationships with each other that helps them address challenges more efficiently and effectively without always having to start from scratch. "Being able to network with other leaders from throughout Wisconsin who face similar issues and challenges benefits my department and my local government and, by extension, my community," added Linda Hand, the ADRC/Aging Director for Washburn County.
This is the fifth class that has graduated from the Academy. The Local Government Leadership Academy serves:
elected officials who understand the basics of their role and are ready to take on new leadership challenges.
department heads, directors, and managers who are new to leadership roles, as well as those aspiring to or preparing for leadership roles.
anyone interested in becoming a more effective leader in local government.
Registration for the 2024 Academy is now available. Learn more about the Local Government Leadership Academy at http://www.go.wisc.edu/lgla, or contact Elizabeth McCrank, Lead Facilitator for the LGLA, UW-Madison Division of Extension at (715) 436-0704 or lgla@extension.wisc.edu.
2023 Local Government Leadership Academy Graduates: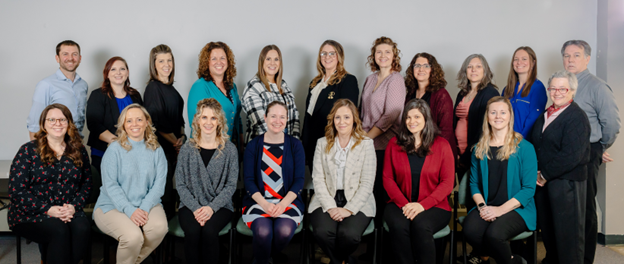 Gene Asman, Deputy Veteran Services Officer, Jefferson County
Tiffany Brault, City of Fond du Lac Council Member, Fond du Lac County Board Member
Aaron Daul, Director of Budget, Policy and Analytics, Washington County
Sarah Elsner, Zoning/On-Site Waste Management Technician, Jefferson County
Katie Gonzalez-Martin, Health & Human Service Economic Support Supervisor, Portage County
Tiffany Goodman, Child Support Specialist, Jefferson County
Linda Hand, Aging Director/ADRC Supervisor, Washburn County
Pamela Hansen, Finance Director & Administrative Coordinator, Pepin County
Carly Keller, Fiscal & Clerical Services Manager, Jackson County
Adrian Lockington, Executive Assistant – County Administrator's Office, Monroe County
Brittany Mews, Health Department Director/Health Officer, Clark County
Carrie Nelson-Woichik, Human Resources Advisor, Portage County
Stacey Palermo, Human Services Psychotherapist, Jefferson County
Carri Renchin, Social Services Manager, Buffalo County
Bonnie Retzlaff, Human Services Operations Program Manager, Menominee County
Beth Robinson, Deputy Director, Criminal Justice Treatment Services, Outagamie County
Danielle Schalinske, Social Services Manager, Buffalo County
Jessica Tucker, Benefits Administrator, Jefferson County
Anne Van, Executive Operations & Public Relations Specialist, Outagamie County
Katie Van Seeland, Alder & Common Council President, City of Appleton
Jamie Weaver, Interim Health Officer/Public Health Supervisor/Environmental Health, Buffalo County
Photo Credit: Ann Ilagan Photography